I struggled on choosing the best ESC for my FPV drone when I attempted to build my first drone. Current, firmware, protocol etc., they are so confusing for me. As I've sorted things out, I decided to help other beginners understand how to choose an ESC for their drone.
In this guide, I have listed my recommended ESC for 2023, an I'll explain the basic features that you should look at when choosing an ESC.
What is ESC?
An ESC or Electronic Speed Controller is an important component in drones running on brushless motors (check out my top picks of motors and all you need to know about them). It controls the speed of the motors in an FPV drone based on the throttle signals from your flight controller.
To ensure that your custom-built drone will operate smoothly, as well as efficiently at your desired speed, you need to choose the right ESCs.
Best ESC for FPV Drones 2023
To save you time, I've listed a few ESCs for your consideration. Note that I've included affiliate links below. If you make any purchases through my links, I will get a small commissions for qualified purchases. This help me to maintain the site without additional cost to you.
Top of the Line – T-Motor F55A Pro II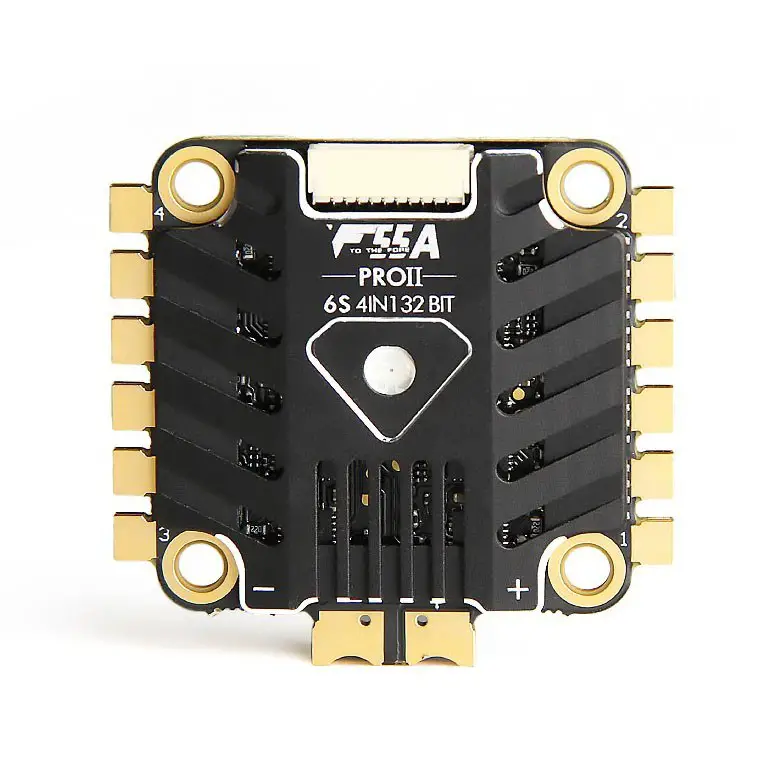 T-Motor F55A Pro II is the best ESC that you can get in the market. It is powered by a 32 bit processor with 48 MHz computing speed. This means that the ESC can support any new features that might be added in the future, and remain relevant even after a few years.
Thanks to its supreme heat dissipation design and high quality MOSFET, you don't have to worry about overheating.  
T-Motor F55A Pro II has a 55 A rating to protect it from any current surge. It also has a 5 V BEC to connect to any peripheral you want to. 
In short, F55A Pro II scores both future-proof and durable check boxes. What are you waiting for?
Top of the Line – Holybro Tekko32 F4 Metal 4-in-1 ESC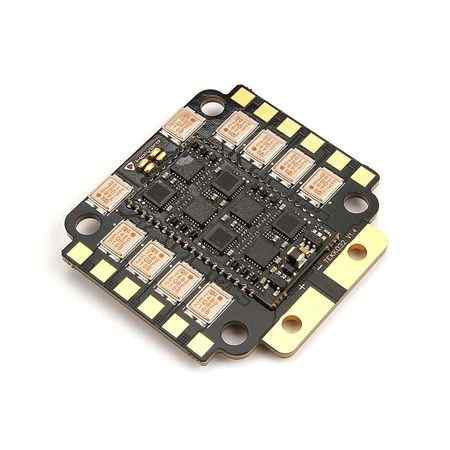 Holybro Tekko32 F4 is a new ESC that uses a powerful F4 processor. It has a high continuous current rating of 65 A, and 75 A burst current, which means it won't be fried under most circumstances.
With this ESC, you don't have to worry about overheating issues. It uses metal heatsinks, and it is designed to dissipate heat faster.
Running on BLHeli_32 and a strong processor, this ESC supports all latest and future ESC features. If you want a future-proof and durable ESC, Holybro Tekko32 Metal is you best bet.
Most Robust – Hobbywing Xrotor Micro
The Hobbywing Xrotor Micro is a powerful and durable ESC that I highly recommend you to consider. 
Performance-wise, the Xrotor Micro runs on a 32 bit processor at 48 MHz. It has great heat dissipation and runs on the latest BLHeli-32 firmware. It also supports DShot1200 protocol, which offers an astounding latency of just 13 µs.
The chip also comes with unique soft mounting that helps to reduce vibration from being transferred to the FC, thereby improving FC's performance. It also has a built-in voltmeter to measure the voltage and current in real time.
The Hobbywing Xrotor Micro is used by a few popular racing and freestyle pilots, such as Evan Turner, Alex Vanover and Johnny FPV, if you need extra assurance. 
Best Value 4-in-1 – Racerstar REV35 4in1
Racestar Rev35 is an entry level ESC suitable for those who are new in this hobby. This thing runs on a 48 MHz processor and supports Multishot/DShot600 protocol. It also has a built-in current sensor. It is very affordable and flies very well. You should really consider Racestar if budget is a concern.
Cheapest Worth Having Single ESC – Xilo 40A ESC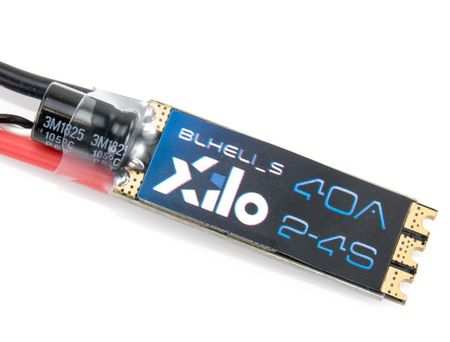 XILO is known to market affordable components with decent quality for FPV drones. If you are looking for affordable single ESCs but you don't want things that can last for only a few flights, XILO 40A ESC is the one you should go for.
Since it is a single ESC, in the event you need to change a damaged ESC, you just have to change 1 instead of 4. That is a huge saving.
As the name implies, XILO 40A runs on BLHeli_S, and has an 8 bit processor. While it is not the most powerful processor on the latest firmware, it is sufficient for normal operations.
The only downside is XILO 40A ESC runs on 2-4S LiPo, which is still quite good for beginners.
How to Choose the Right ESC for Your FPV Drone?
Choosing the right ESC takes some research. You need to make sure the chosen ESC is compatible with your build, at the same time having a decent quality so that you don't have to keep replacing them.
Here is the simple rule: Choose a BLHeli_32 or BLHeli_S ESC with current rating close to the motor's max current draw and voltage matching the LiPo. The ESC should support at least DShot600 or MultiShot.
Continue reading to uncover things that you need to consider.
Current Requirement of the FPV Drone Build
This is probably the most important thing that you need to consider. Your motors draw a certain amount of current during normal operations, and this amount is being handled by your ESCs. When the current required by the motors exceeds what the ESC can handle, it results in overheating, failure, and destruction of your ESC. 
Hence, you should choose your motors before even looking into the ESC. In general, higher motor Kv, larger stator size (both width and height), and heavier propellers increase the current draw of your motor. 
Motor's Current Draw
There are 2 options that you could utilize to determine the current draw of your motors. 
You could always check out online motor tests as there are various available reviews in certain sites. I personally prefer miniquadtestbench.com. 
The current draw values published on those sites are often overstated due to the conditions employed in static testing. In reality, when the drone is moving, it takes less effort for the motors to keep it moving or make it move faster. You can discount those values by 10-20% if you want.
Manufacturers of motors typically publish the current draw of their motors too. But you will need to check for such information product by product.
Current Ratings of ESC
Make sure the current rating of your ESC is higher than or close to your motor's current draw. Let's say your motor draws 22A, use an ESC with 25A rating but not 12A.
There are two different current ratings that you should examine when selecting the optimal ESC for your build. 
Continuous ratings, or the maximum continuous current that the machine can handle over a certain period, is used to determine the capacity of your chosen ESC when used for prolonged durations. 
On the other hand, burst ratings are used to determine the amount of current that the machine can handle for shorter periods. Burst rating is very important especially if you do a lot of acceleration at maximum throttle. 
Do note that not all ESC has a burst rating. Don't worry too much about it doesn't have that. An ESC can work under overloaded conditions for 10-20 seconds. So it is okay if the ESC's maximum current rating is 3-5 Amp lower than the motor's max Amp draw. Just make sure that you don't always go full throttle for a long duration.
Of course, you can choose an ESC with a current rating much higher than the maximum amp draw if you have the budget.
Bear in mind that the current rating stated on the ESC is the current rating of 1 ESC. If you use a 4-in-1 ESC, the rating is for each ESC. 
ESC Voltage Input
When you are reading the spec of an ESC, it should mention what the voltage input requirement is. Usually it just says 3-4S, or 4-6S instead of the actual voltage. That simply means the battery types that you should be using, either 2S, 3S, 4S and etc. So if you are using a 4S battery, an ESC that says 4-6S input would work for you.
Single vs 4-in-1 ESC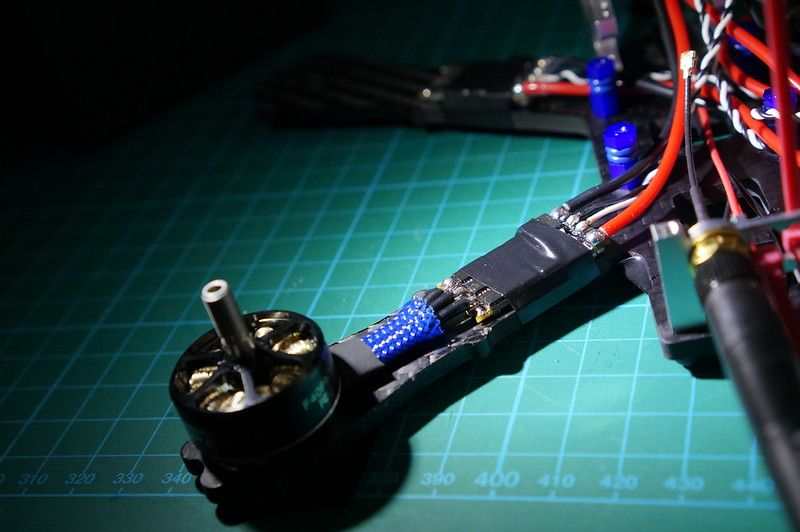 You can either buy an individual/single ESC, 1 for each motor or a 4-in-1 ESC. I prefer a 4-in-1 ESC because it is slightly lighter and neater with less soldering/wiring required. I've summarized the advantages of both ESCs in the table below.
| Features | 4-in-1 ESC | Single ESC |
| --- | --- | --- |
| Wiring | Neat | Can be messy |
| Soldering | Can be tougher due to limited space | Relatively easier |
| Protection | ESCs are better protected at the center of the frame | Easier to be damaged from crashes because they are located on the arms |
| Acquisition cost | Cheaper | More expensive |
| Replacement cost | Replace the whole unit, which is expensive | Replace only the faulty unit, which is cheaper. |
| Weight | Lighter and hence faster drone speed | Heavier and hence slower drone speed |
| Availability | Getting more popular | Could be phased out |
ESC Firmware
There are 2 common firmware run by the ESC: KISS and BLHeli. The KISS firmware is a closed sourced ESC that can only be applied on a KISS hardware. On the other hand, BLHeli is open-sourced and is available for most individuals to install as a 3rd party firmware to improve the drone's performance. 
BLHeli (and it's successors) is commonly pre-installed in modern ESCs as it has already become a must-have in the FPV industry. Its wide array of features and user-friendly interface easily bumped it to the top and made it a popular choice for custom building.
BLHeli_S is the 2nd generation of BLHeli that boasts a smoother response curve due to its hardware PWM (pulse width modulation). Its signal response delay is only 1-2ms, and it has a much simpler interface along with its 8-bit processors.
BLHeli_32, on the other hand, is the 3rd generation, and is specifically made for 32-bit ESCs. Since 2016, it has become closed-source, but it boasts greater processing power and faster input signals along with lower latencies.
The standard firmware used nowadays are BLHeli_S and BLHeli_32. If possible, choose ESCs with BLHeli_32 which runs on 32 bit processors.
ESCs with BLHeli_32 are more expensive, but definitely worth the price for the features it offer (eg. Telemetry, by-RPM).
ESC Processor
Processors and firmware are interrelated. An 8 bit processor runs on BLHeli and BLHeli_S, while a 32 bit processor runs on BLHeli_32.
A processor from a reliable manufacturer with 8 bit firmware will do the job. If you have more budget and think you will be using the same ESC for a few years down the road, choose one with 32 bits instead.
Although 32-bit processors are more powerful and versatile when it comes to their allowable features, 8-bit processors are still viable as they can still support key aspects such as RPM filters, DShot support, and 48KHz mode at a cheaper price.
Some newer ESCs may use processors originally meant for flight controllers. They have an "F" prefix, eg. F4.
Those processors perform better than the conventional ESC processors. But, it is an overkill unless you plan to use the latest by-RPM features in BLHeli_32 ESCs. Here's a video explanation on what by-RPM does.
ESC Protocol
The ESC Protocol installed will determine the speed at which the signal from your flight controller is transmitted to the ESC, making it a crucial factor when gauging how efficient your drone will perform during actual use. You should be using an ESC that supports at least DShot600.
The oldest protocol available is the standard PWM which offers a signal delay of around 2 ms.. Recent developments allowed the production of faster protocols such as DShot600 that offers 26.7 µs, MultiShot which offers 5-25 µs, and DShot1200 which offers an astounding latency of just 13 µs. 
What's the difference between 26.7 µs and 13 µs? Well, there isn't any noticeable difference in normal FPV drone applications.
Note that DShot1200 is not supported in Betaflight.
Size and Weight
The size of an ESC usually translates to weight. While you obviously want a lighter ESC for faster speed, a smaller ESC suffers from weaker heat dissipation even with heat sinks. 
When ESC gets hot, its performance deteriorates. Hence, you should not prioritize weight-saving on ESCs.
The only thing that you need to worry about is the ESC size compatibility. The sizes of ESCs are standard. Make sure your drone can fit the ESC. If possible, choose the biggest ESC that your drone frame can support because larger ESCs are generally more durable, and dissipate heat faster.
Smaller drones use all-in-one (AIO) FC/ESC, where both components are integrated to save space. This is ideal for smaller quads with limited space. It also keeps the build clean. However, you have to change the whole unit if it spoils, which is more expensive.
Don't get confused between AIO and FC/ESC stacks. Stacks are basically combo deals of FC and ESC. Both FC and ESC are separate boards.
BEC
Certain ESCs have BEC, which stands for Battery Elimination Circuit. It basically regulates the voltage so that the various parts (eg., video transmitter, camera etc.) on the drone receive the correct voltage. 
If you are using a power distribution board (which is unlikely) or if your flight controller has built-in PDB, you don't need BEC in your ESC. Your ESC is quieter, lighter and smaller without BEC.
Brand
Although certain specifications might be similar in different ESC variations, do take note that different ESC types may result in varying thrusts. A 20% difference may be observed between a good quality ESC and an affordable option. 
The thrust may depend on several factors such as ESC size, build quality, quality of solder joints, and type of flying that you do, making it largely variable depending on the choices that you have settled with. 
This would not be a problem if you are using ESCs from a reputable brand. In short, the brand does matter.
To get you started, here are a few well-known suppliers of ESCs that you could check out during your ESC selection trip. This does not include all good brands, but this will serve as a great starting point for your search.
Aikon
Diatone
FuriousFPV
HGLRC
Hobbywing
Holybro

Racerstar

RushFPV
Spedix
Final Words
Choosing the best ESC is not complicated. As a rule of thumb, you could never go wrong with great parts. The key is to understand your needs so that you can harness the full potential of the ESC.