If you like aerial footage, a cinewhoop is something you should get. I have compiled the best cinewhoops you can get in 2023 for your aerial footage. 
Best Cinewhoops for 2023
Below is a table of comparisons to help you choose the right cinewhoop for you. 
| | | | | | |
| --- | --- | --- | --- | --- | --- |
| | | | | | |
| | | | | | |
| | | | | | |
| | | | | | |
| | | | | | |
| | | | | | |
| | | | | | |
| | | | | | ELRS, FrSky R-XSR/XM+, CRSF |
| | | | | | |
| | | | | | |
| | | | | | |
| | | | | | |
You need to buy an action camera separately for your cinewhoops, since the drone cameras are not as good as the action cameras. Do not use a full size GoPro. Even if your cinewhoop can carry it, its flight pattern and duration will be severely affected.
GEPRC Cinebot 30 – Best Cinematic Whoop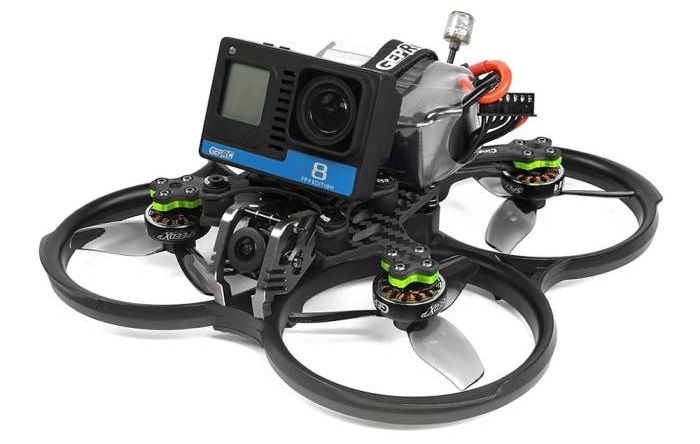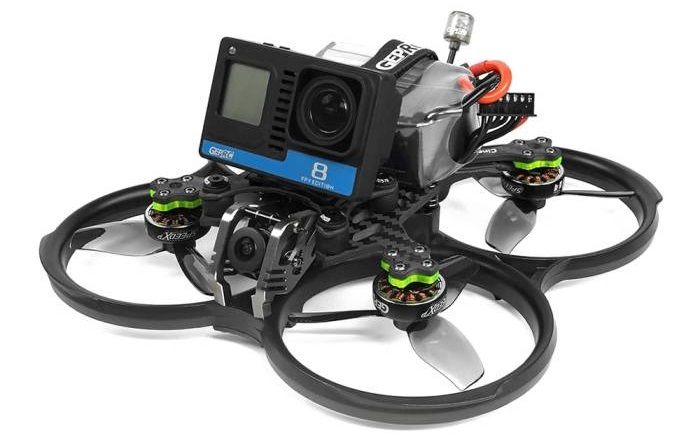 GEPRC Cinebot 30 is arguably the best cinewhoop available in the market. It runs on 3" props, and weighs 210 g without batteries. 
The GEPRC Cinebot 30 comes finely tuned from the factory. It flies very stable and smooth, without tumbling. 
The Cinebot 30 has an aluminum side bracket on the camera to protect the camera lens from crash. This is extremely useful, even though pilots do not typically do a lot of aerial tricks with a cinewhoop,
With a 1 W output VTX, the Cinebot 30 gives you clear footage. You can even turn this cinewhoop into a micro long range FPV by adding a GPS and barometer on its powerful F7 FC.
There is a black box on the Cinebot AIO FC. That allows you to conveniently troubleshoot and tune your drone. 
There are a few versions of Cinebot 30. In terms of radio, you can get one with an ELRS, FrSky and Crossfire receiver. You can also get a PNP version. In terms of video, you can get the DJI or Walksnail version, if you prefer to fly digital FPV.
This drone has beautifully-designed built-in LEDs around the prop guards. It's a shame that you can't change the color of the LED though.
Speedybee Flex 25 – Smallest 2.5" Cinematic Drone with Wireless Setup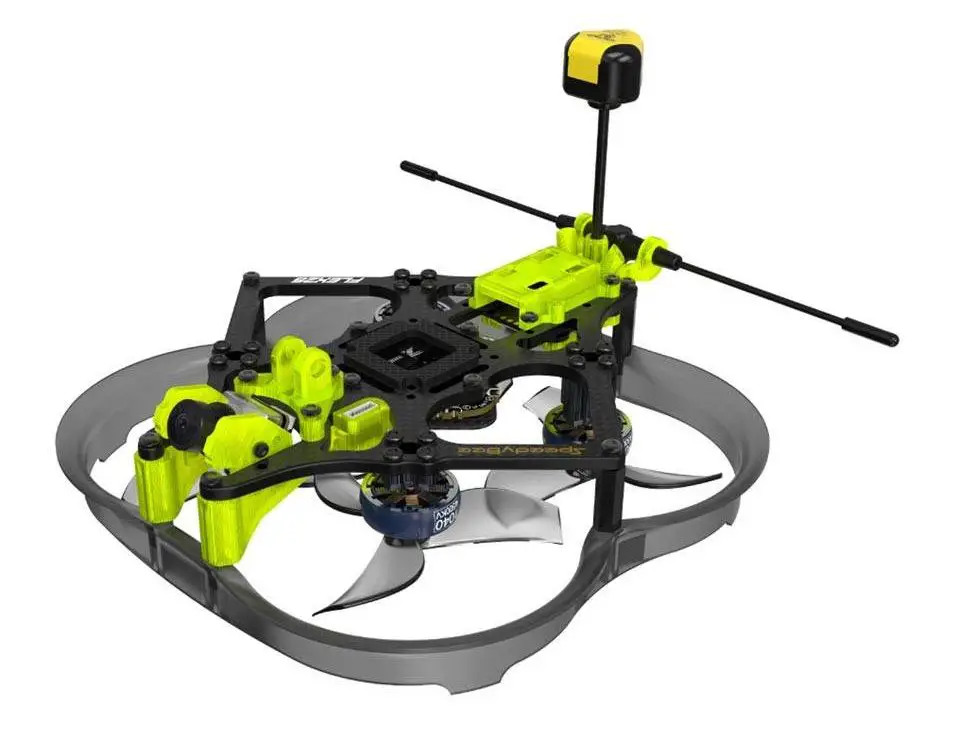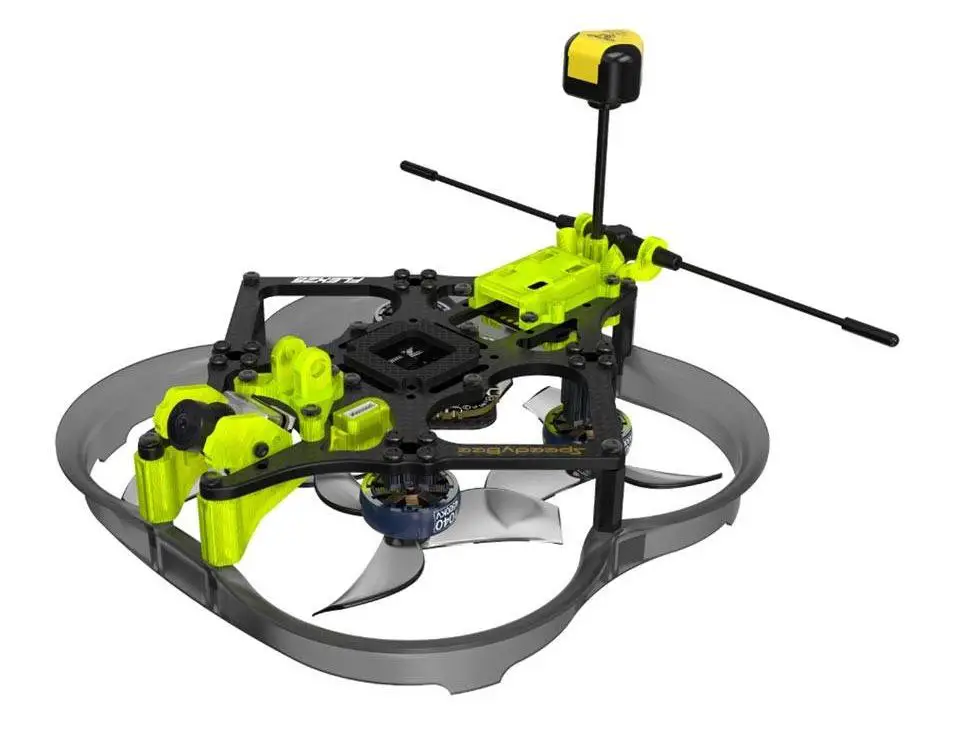 Speedybee Flex 25 is dubbed as the smallest 2.5″, with a wheelbase (distance between 2 diagonal motors) of 78 mm. 
It is perfect for those who want a smaller cinewhoop with a strong power. Having bigger, 2.5" props on a drone with a 2" wheelbase gives the Speedybee Flex 25 more power. 
Having said that, some pilots feedback that the Flex 25 behaves more towards typical 2" drones than 2.5" drones. Probably some tuning will fix that.
The other key highlight of Speedybee Flex 2.5 is that you can configure its Betaflight setup through Bluetooth, using the SpeedyBee mobile app. No more connecting the drone to your PC!
Speedybee Flex 25 comes with 3 radio receiver options, including FrSky, Crossfire, and PNP or no receiver. I recommend buying PNP and affixing an ELRS receiver, one of the best radio link protocols.
In terms of video transmission, the analog VTX has a power output of 800 mW, which gives you strong and clear signals. You can also opt for the digital FPV version.
Speedybee Flex 25 comes with an LED stripe along its prop guard. Unfortunately, the color options are limited, and the LED can't change color.
A minor drawback of this drone is the weight distribution, if you are flying the digital version. This is because the digital VTX is placed towards the end of the drone, slightly shifting the weight distribution away from the center.
Note that the USB-C port on this drone needs to be powered up with the LiPo battery. Without doing so, your computer can't recognize the connection. This is troublesome, but it should not be a big deal, since you should be configuring your drone through the SpeedyBee app anyway.
BetaFPV Pavo 25 – Best Lightweight 2.5" Cinewhoop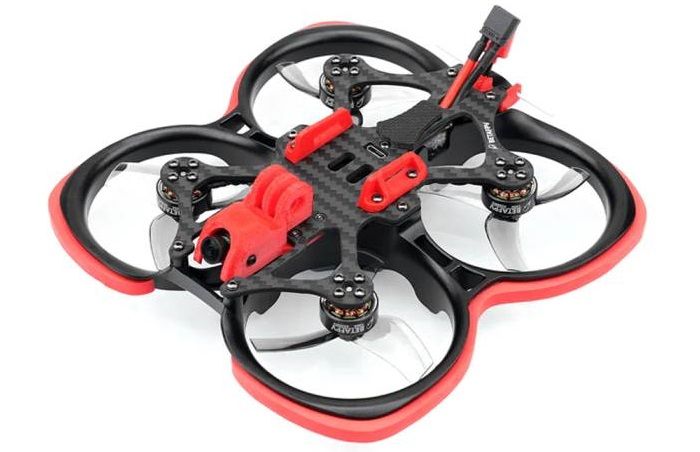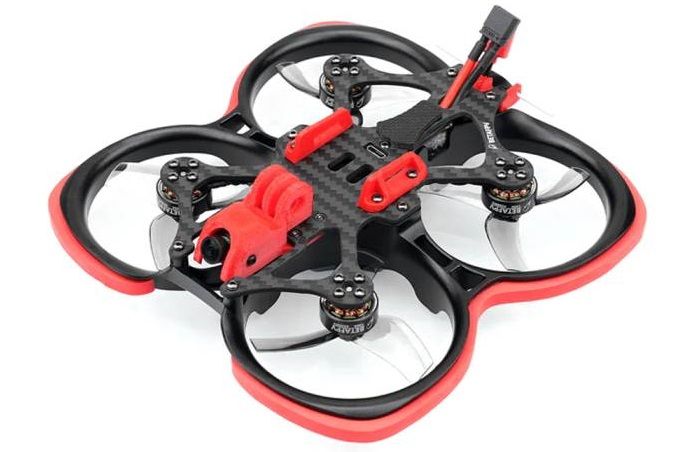 BetaFPV Pavo 25 is super lightweight for a 2.5" cinewhoop. Weighing only 140 g (dry weight), you can make it below 250 g with the right LiPo and action camera.
The Pavo 25 has a clean design. Everything is encased in the prop guard casing. You can easily remove the bare body by removing 6 screws. Because the nuts are embedded in the frame, you don't have to deal with misplaced nuts.
If you prefer flying digital FPV, Pavo 25 might be suitable for you. It comes with DJI, Walksnail and HDZero versions. No matter which digital FPV system you like, you can have it on the Pavo 25. 
The Pavo 25 comes with 3 radio receiver options: ELRS, Crossfire, and no receiver. If this is your first FPV drone, choosing ELRS is a no brainer.
The FC on the BetaFPV Pavo25 is the Toothpick F405 FC (BMI270). It has an F4 processor. That's not exciting, but it gets the job done. Unfortunately, there is no black box on the FC.
A drawback of BetaFPV Pavo 25 is that the officially-released firmware in Betaflight no longer supports Toothpick F405 FC (BMI270). However, you can download the supported firmware on BetaFPV. It's rather troublesome, but not a big deal.
Diatone Taycan C25 MK2 – Best Cinewhoop for Dual Action Cameras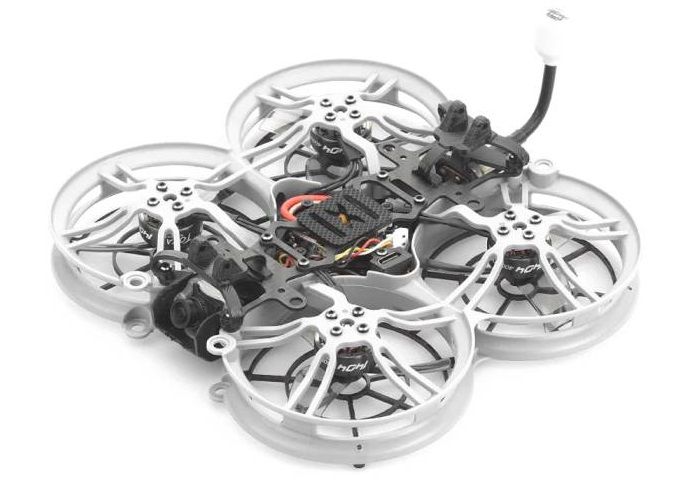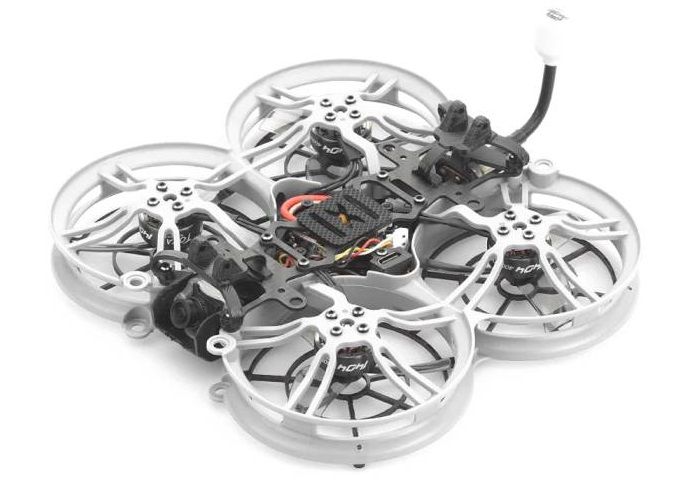 Diatone Taycan C25 MK2 is known for having 2 mounts for action cameras – one at the front, and one at the back. It is suitable for those who are keen to mount 2 action cameras on their cinematic whoop for whatever reasons. Obviously, having 2 action cameras will make it more sluggish due to the added weight.
Diatone drones are known for their quality and durability. The Taycan C25 MK2 frame is strong and flexible. Thanks to that, it can withstand repeated crashes. It also has an additional carbon fiber prop mesh to protect the props from the bottom.
If you are trying to make this cinewhoop sub250, removing the prop mesh may help a little (5-6 g). Having 2 action cameras will definitely make it above 250 g.
This cinewhoop comes with either a Crossfire receiver or no radio receiver. I'd get the PNP version and hook it up with an ELRS receiver instead of buying Crossfire.
One major drawback of this cinewhoop is on the top plate design, which is only 1 mm thick. Since the top plate is where the battery strap is attached to, it may break if the LiPo battery is ejected.
Foxeer Foxwhoop 35 – Most Durable Cinematic FPV Drone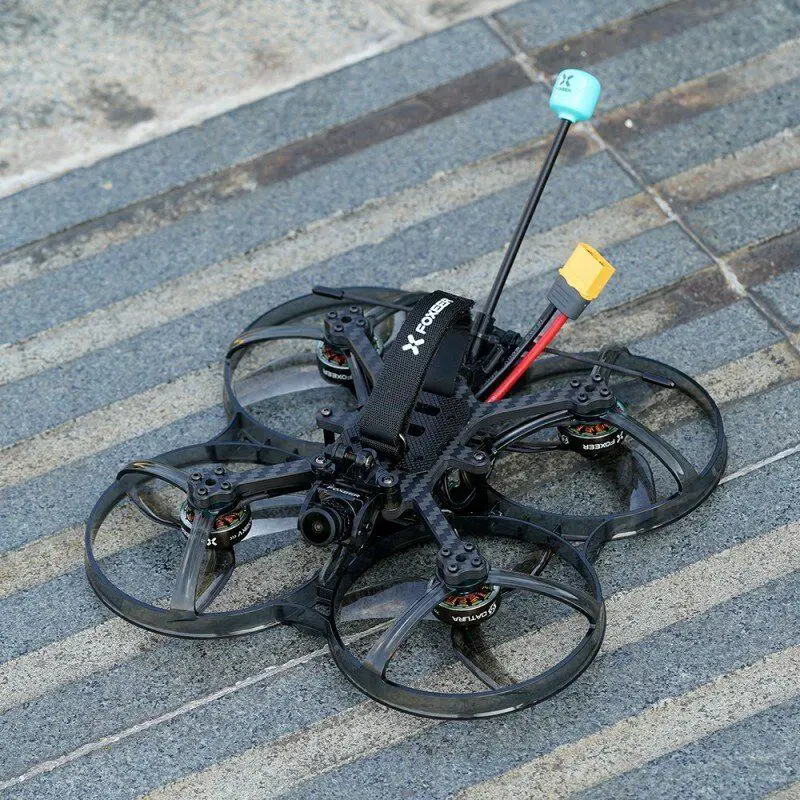 With 6 mm-thick frame arms, Foxeer Foxwhoop 35 is the most durable FPV drone available in the market. Its arms are even thicker than many 5" FPV drones. This is the must-have cinewhoop for those who are concerned about durability.
There are a few versions of Foxwhoop 35. For radio, you can choose between ELRS, FrSky, Crossfire, and no radio. For video, you can opt for digital FPV if you want. 
Powered by an F7 FC, Foxwhoop 35 is future-proofed for upgrades. It has a black box, which is crucial for troubleshooting and tuning your drone.
Perhaps the biggest downside of Foxwhoop 35 is its VTX output – which is a meager 350 mW for the analog version. 
The dry weight of Foxwhoop 35 is 250 g. It is heavy partly due to its thick frame.  If you want something below 250 g, this drone is not for you.
The Foxeer Foxwhoop 35 has a basic design. There are no fancy LEDs, even though LED whoops are common nowadays.
What are Cinewhoops?
Cinewhoops are drones designed specifically to carry an action camera to capture smooth aerial footage, or, cinematic, while performing some less demanding acrobatic maneuvers. A cinewhoop has prop guards so that it can move near the objects being filmed, without cutting the objects with its props.
What are the Advantages of a Cinewhoop?
Generally, cinewhoops can fly smoothly and slowly, giving them the ability to record slow cinematic. Due to their size and prop guards, they can get close to the objects to be filmed. Moreover, cinewhoops are cheap because of their size and less powerful parts.
What are the Disadvantages of a Cinewhoop?
In total, cinewhoops have a short flight time due to the extra weight from the action camera it carries. The extra weight also makes it less nimble than a toothpick or bigger drones. Because of that, it is difficult to perform acrobatic tricks that require a high thrust to weight ratio on a cinewhoop.