If you want to avoid as much soldering as possible, or if you want to skip the hassle of matching compatible parts to build your drones, getting a pre-built drone is definitely a way out. Here's my pick of the best FPV drones for 2023 to get you started flying.
If you have 0 experience in flying FPV drones, you can also consider getting the ready to fly (RTF) drones listed here. Those drones are cheap and durable, making them suitable for beginners since you will be crashing them a lot.
Most of the drones listed here are either bind and fly (BNF) or plug and play (PNP). You will need a compatible radio transmitter and FPV goggles (analog or DJI) to fly them. You will also need a radio receiver for your drone if it is a PNP version.
This list doesn't cover the following type of drones. If you are interest in those drones, go to their respective pages.
Note that if you make a purchase through my links, I will earn some commission at no extra cost to you. This helps me maintain the site and produce more content.
Best FPV Drones for Racing
Matching the right components to produce a powerful and lightweight quadcopter for racing is difficult. Fortunately, you can get some powerful racing drones in the market to help you win races. They may not be as good as a custom-made one (except for Lumenier Chief Racing Quad), but they can definitely jump-start your racing journey.
Below are the 4 best racing FPV drones that I recommend.
| | | | | |
| --- | --- | --- | --- | --- |
| | | | | |
| | | | | |
| | | | | |
| | | | | |
| | | | | |
| | | | | |
| | | | | |
| | Lumenier 2207 2150kv Chief Racing Motors | | | |
| | | | | |
| | | | | |
Lumenier Chief Racing – Best Customized 5″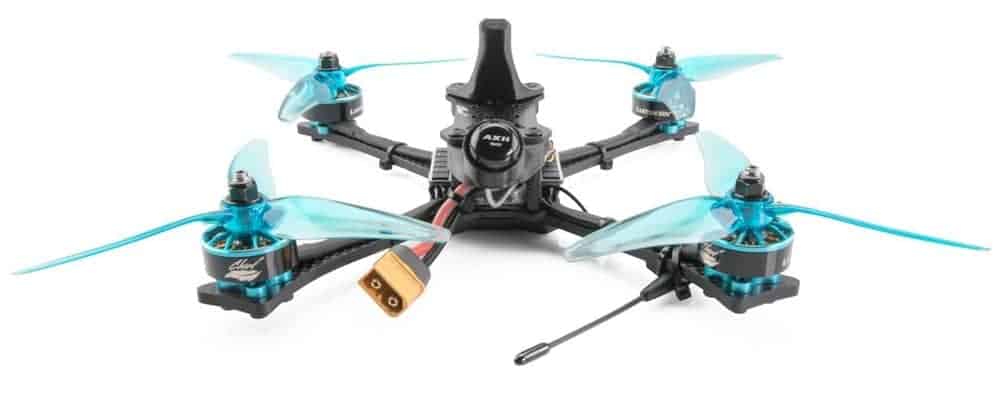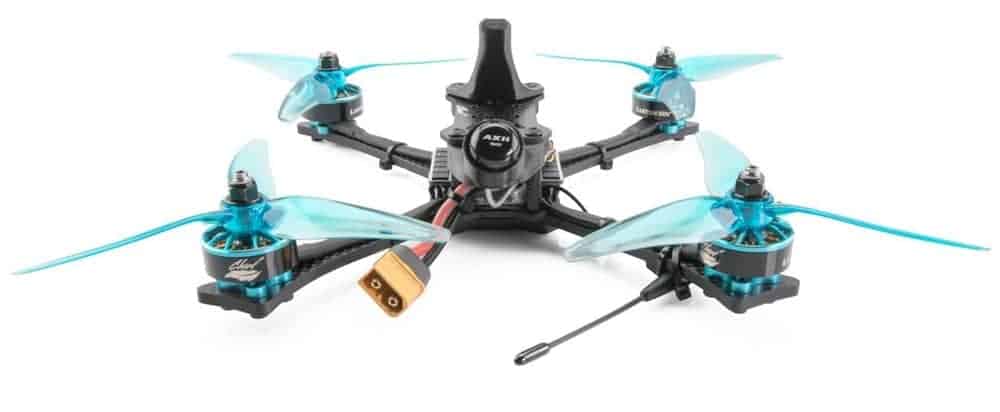 The best pre-built 5″ racing drone that you can buy is none other than the Lumenier Chief Racing Quad.
The reason I specifically highlight this is because this is the exact same build used by Alex Campbell, or, the Chief, who is one of the top racing pilots in the world.
The frame and motors of this quadcopter are both designed specifically to be light, durable, and powerful to win races. If you want a pre-built drone that can help you win races, this is your best choice.
iFlight Mach R5 – Best Mass-Produced 5″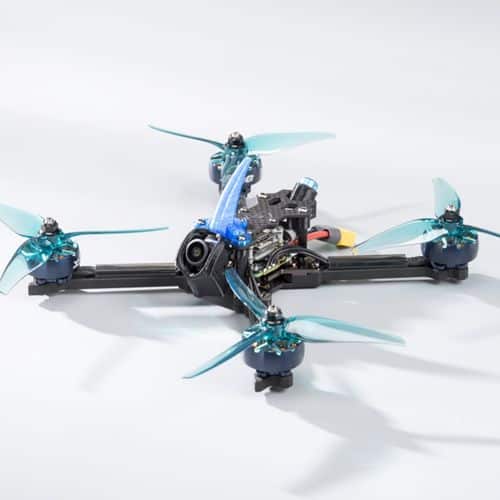 If you want to win races but can't afford Lumenier Chief, the iFlight Mach R5 is your best bet. It comes with giant motors to give it a super fast response and powerful thrust. 
The Mach R5 has a true X frame, which gives it the best aerodynamics for racing. With its 6 mm-thick carbon fiber arms, you don't have to worry about breaking it.
This quad comes with a solid build and the PIDs are already well-tuned. You only need to bind it to your radio and start flying.
Beware though, there is only the 6S option, which can be too powerful to handle for beginners.
EMAX Hawk Pro 5″ – Best Budget 5″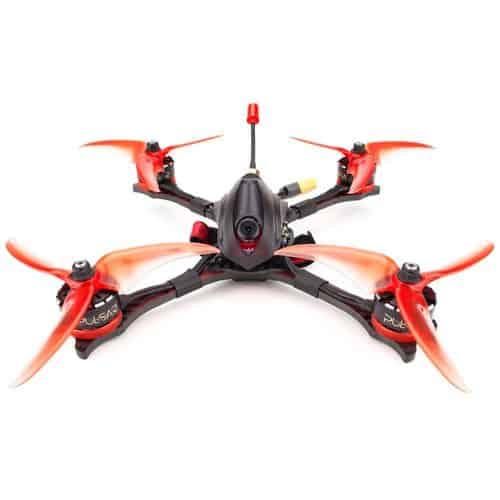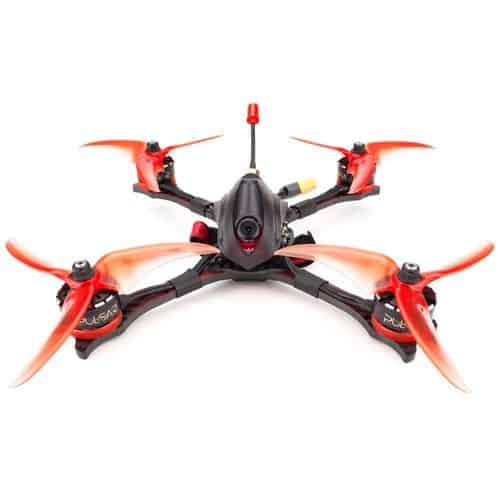 The Hawk Pro has been in the market for a few years, and it is still very competitive. This quad is equipped with Pulsar motors, which give it high torque and power to win races. There are LEDs under the motors which glow as you fly. It looks cool, and there are 3 color options.
Given its low price point, there isn't anything to complain about.
EMAX Nanohawk X -Best Budget 3"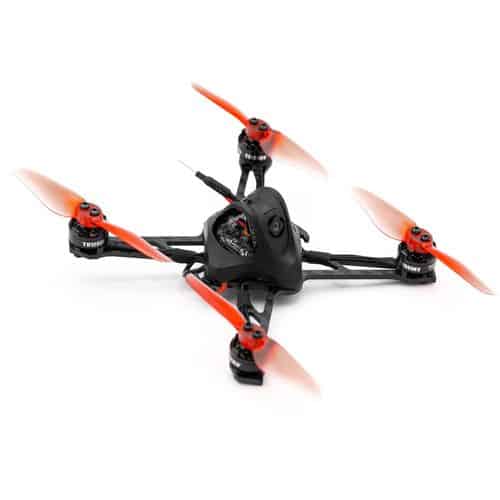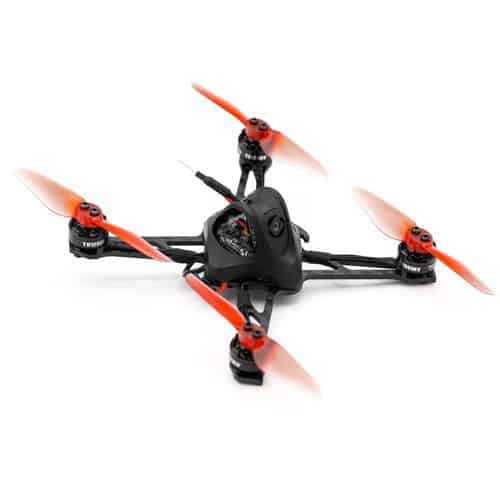 EMAX Nanohawk X is a super lightweight 3" drone designed with racing in mind. Don't be fooled by its 1S setup! It is probably the most powerful 1S 3" drone. 
The fact that Nanohawk X uses 1S battery also means that it is easy to take care of, compared to batteries with higher cell count.
If you are looking for a beginner-friendly racing drone, go for EMAX Nanohawk X. Hook it up with a FrSky transmitter and you are ready to go.
Best FPV Drones for Freestyle
Not all people are into racing. If you are into freestyle instead, you have more options because many pre-built drones are designed for freestyle.
Below are my top picks of freestyle drones. Note that the table of comparison below is based on analog FPV, while the links lead you to both analog and digital variants (if available). The digital variants may have better specs (eg. better FC) than the analog. If you have the budget, go for Digital FPV! You will need digital FPV goggles for that.
| | | | | | | |
| --- | --- | --- | --- | --- | --- | --- |
| | | iFlight Nazgul5 Evoque F5 | | | | EMAX Tinyhawk II Freestyle |
| | | | | | | |
| | | | | | | |
| | | | | | | |
| | | | | | | |
| | | | | | | |
| | | | | | | |
| | SPEEDX2 2107.5 1960/2450KV | | MAMBA TOKA 2306.5 2450/ 1700KV | Xilo Stealth 2207/ 1800KV | | |
| | | | | | | |
| | | | | | | |
GEPRC Mark5 – Most Durable 5" Freestyle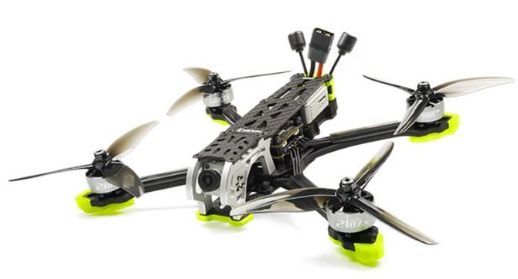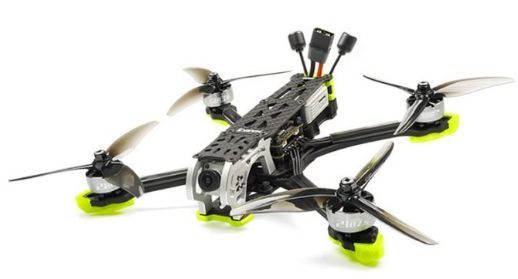 GEPRC Mark5 is one of the best 5" freestyle drones that you can find in the market. Although it is more expensive than others, It gives you superior durability, ease of use, future-proof and solid performance. 
The overall design of its frame is unique. It has a front bracket which protects the camera in a crash. The front bracket is made of high grade aluminum, which is uncommon in the market. Aluminum is better at absorbing impact in a crash than steel, and it is more durable than plastic. 
Thanks to the design of the frame, you can easily remove broken arms or replace the stacks without the need to dismantle the whole frame. The arms of Mark5 are 5 mm thick, which is the standard for 5" drones.  
The Mark5 uses an F7 FC, which is future-proof. It has lots of spare UARTS in case you want to add any peripherals. It also has a full-size ESC. Many many people feel that it is generally more durable than micro ESCs. 
To make your life easier, Mark5 supports SpeedyBee. Simply download SpeedyBee into your phone, and you can configure settings of your drone without connecting your drone with a computer. 
Lastly, the VTX on the analog version of Mark5 supports up to 1600 mW output. That is a lot of range!
iFlight Nazgul5 Evoque F5 – Coolest 5″ Freestyle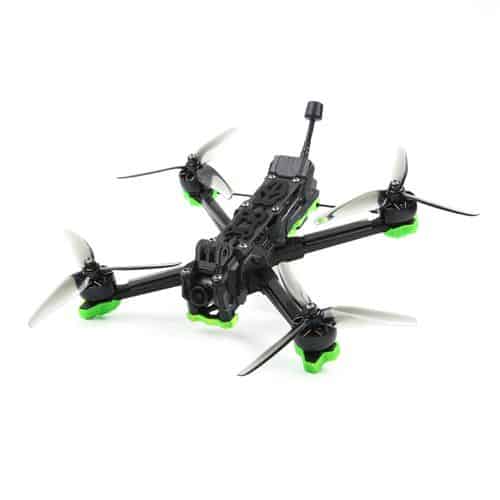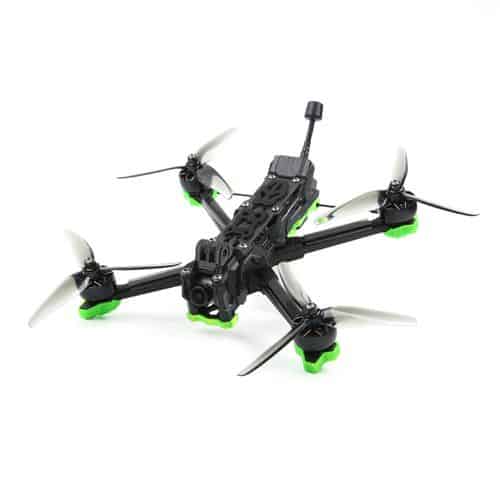 The Nazgul5 Evoque is a new iFlight pre-built drone with a really impressive design. It has a nice LED design which incorporates the LED into the frame instead of on the frame. If you want the coolest-looking 5" freestyle, Nazgul5 Evoque is definitely for you.
The frame of the Nazgul5 Evoque is thick, with removable 6 mm arms and 3 mm base plate. It also comes with side plates to protect your drone from dirt.
The battery plug is secure inside the frame body, which helps to prevent the battery cable from dangling around and getting cut by the props.
Performance-wise, the Nazgul5 Evoque is equipped with the famous Xing motors and a future-proof F7 FC. Do note that the digital variants have higher spec Xing motors than the analog variant.
There are a few downsides to Nazgul5 Evoque though. First, it has a smaller ESC, which might not be as durable as the standard sized ESC. On top of that, the drone is slightly heavier than competing drones, probably due to the weight from extra cosmetic features and thicker arms. Lastly, the VTX output for the analog variant can only go up to 600 mW.
There are 2 variants in terms of frame. You can get the one with a standard X frame for better performance, or the dead cat style if you prefer not to see the props on the camera.
Nazgul5 Evoque also comes with a GPS unit for those who are afraid of losing their drone.
Diatone Roma F5 v2 – Best Value 5" Freestyle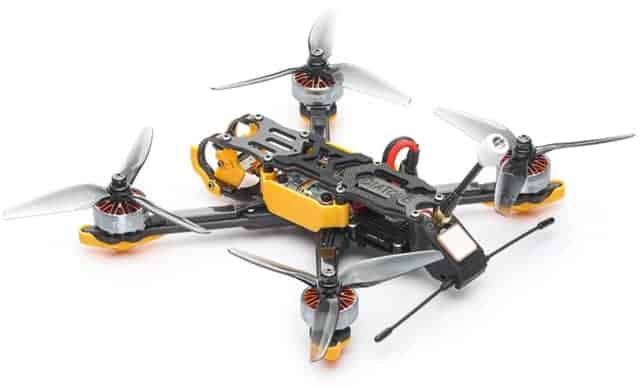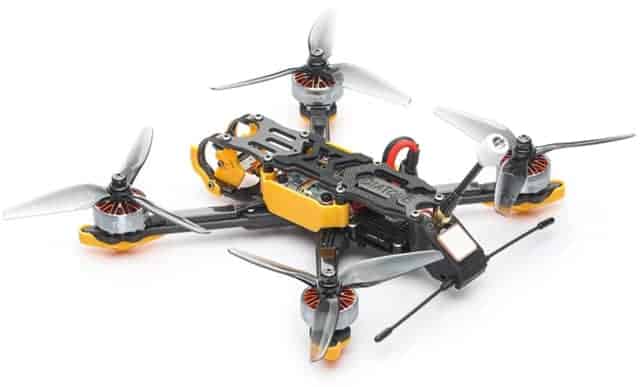 The new Diatone Roma F5 v2 is a great freestyle FPV with lots of features for its price. The frame comes with motor guards, camera guards and side plates to give your drone some extra protection, while making the drone look nicer. To make it even durable, the front camera guard is made of titanium steel, designed to withstand impact.
The F7 processor FC is future-proof and supports OSD, VTX telemetry, black box, GPS and even has built-in Bluetooth. This means you can configure your drone even when you are in the field, without using a computer! Isn't that awesome!
The Diatone Roma F5 v2 is beginner friendly. The drone is labeled with stickers that tell you the motor spin direction and remind you to plug in the antenna before powering on the drone. These are not the most obvious things for beginners, which I am sure you will appreciate.
Another selling point of Diatone Roma F5 v2 is the VTX. It has up to 1 W output, which gives you better range and image.
A common complaint is that the tuning is rather soft. That is OK for beginners. But, as you get better, you will have to do the tuning by yourself. That is not something that you should be concerned about if you are a beginner, at least for now.
Xilo Freestyle JB v2 – Best Drone to Learn Building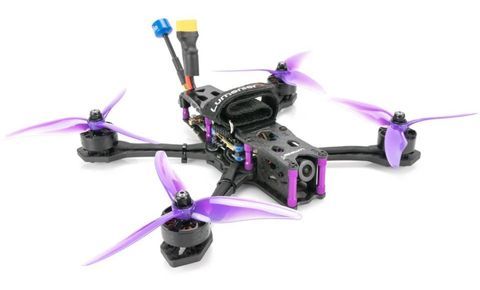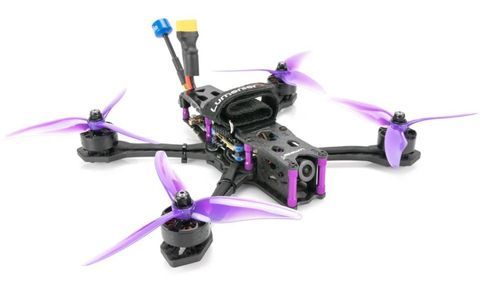 Technically, this is not a pre-built drone. It is a drone kit that comes with all the parts that you need to assemble by yourself. The reason I put it under the pre-built section is because all the components are preselected, so you don't have to shop for individual components by yourself. Secondly, it is a good build. If you are buying from GetFPV, you can get them to assemble the drone at a cost.
The Xilo Freestyle Joshua Bardwell v2 is an entry and intermediate level budget FPV. While there are cheaper drones out there, this gives you the minimum quality that you would appreciate from a budget build. It also comes with all the features that you need for a better experience: eg. clear video, VTX telemetry, OSD, PIT mode etc.
The bundle comes with all the parts that you need to assemble the drone, except the radio receiver. It helps you learn how to build a drone, without having to worry about buying incompatible parts.
Bardwell has a step-by-step guide on how to assemble the drone on Youtube. Rest assured that you will be able to assemble your drone by following the tutorial.
GEPRC Smart35 – Best under 250 g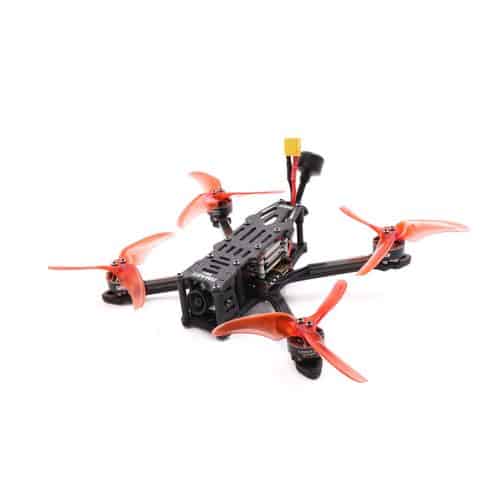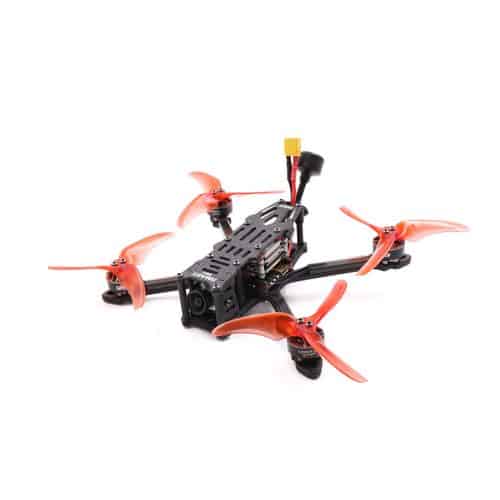 Many countries including the US have laws on drones, with an exemption for those weighing below 250 g. If you are looking for the best FPV drone that exempts you from FAA Part 107 (in the US) or equivalent regulation in your country, GEPRC Smart35 is your best choice.
GEPRC Smart35 is probably the most powerful drone that weighs under 250 g. That's because 3″ drones are not as powerful as 3.5″, while 4″ builds will exceed the 250 g mark.
If you plan to mount a GoPro on it, you need to use a naked GoPro, and a suitable battery to keep it under 250 g.
EMAX Tinyhawk II Freestyle – Best for Beginners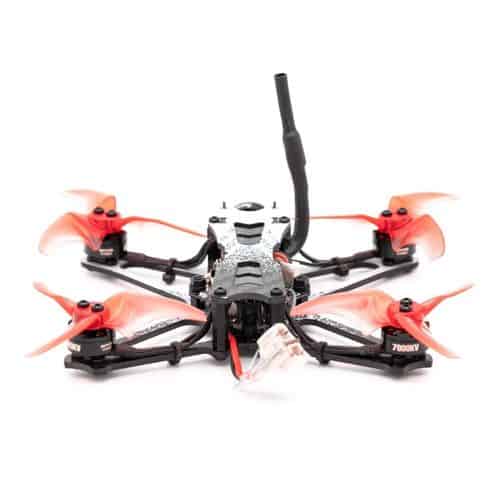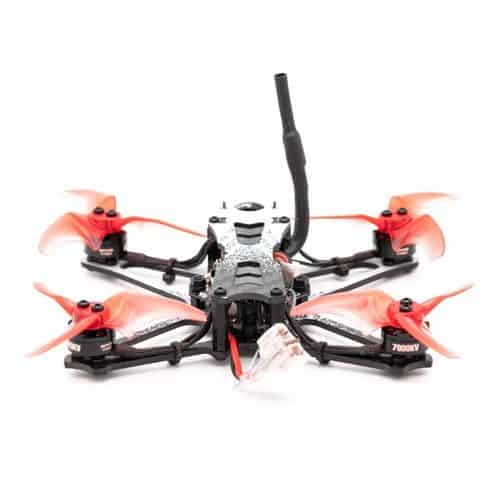 The EMAX Tinyhawk II Freestyle is a 2.5″ drone weighing 80 g with batteries. It is capable of running either 1S or 2S, although I recommend 2S better due to the extra power that it offers.
EMAX Tinyhawk II Freestyle is known to be super durable compared. As a beginner in FPV, you will need that durability as you will be crashing for hundreds of times before you can confidently fly. On top of that, the stock PID is tuned to be softer so that you can control the drone better as a beginner. 
Tinyhawk II Freestyle also comes in RTF bundle, if you don't already own a goggles and radio transmitter.
Best FPV Drones for Long Range
If flying long range is your main interest, you need to shop for long-range-capable drones.
Long range flight is challenging and can be dangerous, since your drone is so far from you. Do check out my tips on long range flight if you are doing it for the first time.
Generally larger drones are more suitable for long range flight. They are bigger and heavier, which means they are not easily swept away by strong winds in the open.
Below are my top picks of best FPV drones for long range flight. Note that the table of comparison below are based on analog FPV (except for Chimera7), while the links lead you to both analog and digital variants (if available). If you have the budget, go for Digital FPV! That will give you a better video feed which is crucial in long range. You will need a digital FPV receiver/goggles for that. I also have another comprehensive list of popular long range FPV drones that you can refer to.
| | | | |
| --- | --- | --- | --- |
| | iFlight Chimera7 Pro V2 HD | | |
| | | | |
| | | | |
| | | | |
| | | | |
| | | | |
| | | | |
| | | | |
| | | | |
| | | | |
| | | | |
| | | | MAMBASYS 2004 2900/ 1700KV |
| | | | |
| | | | |
iFlight Chimera7 Pro V2 HD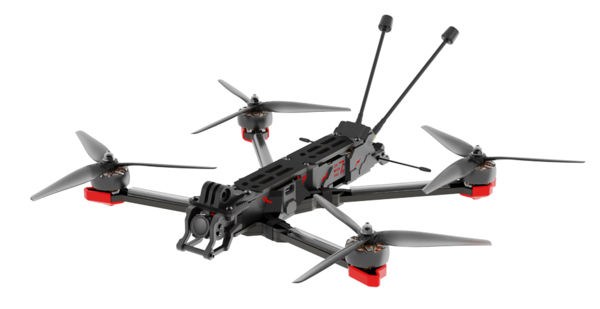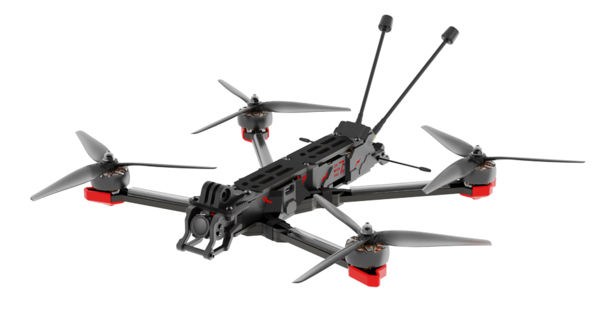 The iFlight Chimera 7 Pro V2 HD is a 7″ long range FPV drone. It has a beautiful design and stylish LEDs that change colors based on the remaining voltage the batteries have. 
The flight controller on the Chimera 7 is an F7 controller that can run both Betaflight and iNAV, giving you the options for manual and autonomous long range flight.
In terms of radio link protocol, you can choose either ELRS or Crossfire options. Both are ideal for long range. Since this drone uses DJI O3, you can even buy a PNP version, and use the DJI controller, if you are willing to invest in that.
While the ESS power rating is only 55 A, which seems to be low for a 7″ quadcopter, it is sufficient for Chimera 7's main role: long range cruising. 
Although it can do aerial acrobatic tricks, note that it is not as nimble as a 5″ due to the extra weight and motors that are optimized for efficiency instead of raw power.
If you try doing some acrobatic moves, you will notice there is a minimum prop wash effect compared to the smaller drones recommended here. That's due to both its heavier weight and excellent factory tuning.
Compared to other FPV drones, Chimera 7 looks more like a finished product, with all its wires and electronics concealed within its frame. This design protects the inner components from dirt. 
To open up the frame for troubleshooting, you need to remove quite a number of screws. But, you shouldn't have to do that often.
Diatone Roma L5 – Best 5" Long Range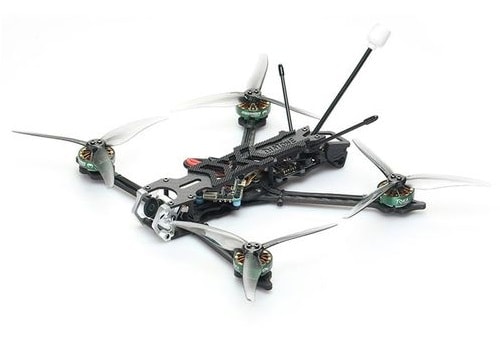 As always, Diatone continues to produce high quality BNF drones. The Roma L5 is specialized for long range flight. With a high capacity Li-Ion battery pack, it can achieve a 30 minutes flight time!
The carbon frame of this quad has 4 mm thick arms, which is strong enough for long range cruising. It comes with an F7 FC, which is future-proof for upgrading.
The only downside with this build is that the buzzer is not self-powered. That means if you crash, and the battery gets pulled out, it will stop buzzing.
You can buy your own buzzer (GetFPV | Banggood) but you need to do some minimum soldering – which is something you will need to do eventually!
GEPRC Crocodile Baby 4″ – Best Long Range under 250 g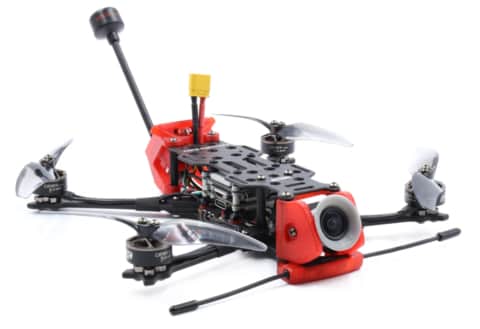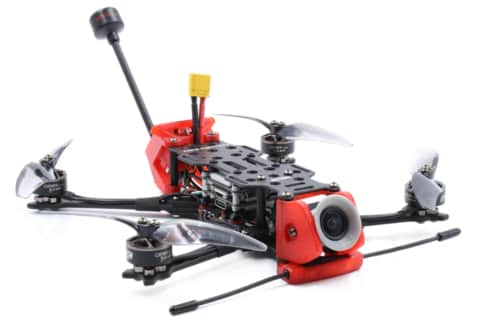 The Crocodile Baby is a 4″ drone capable of long range flight. It is equipped with GPS and a self-powered buzzer, which are crucial for any long range flight. The new version comes with F7 FC instead of F4. Make sure you get the one with the new FC.
This quad weighs only about 160 g without a battery. Even with a battery, it weighs no more than 250 g. Most importantly, it can fly for around 30 minutes with the right battery! That is a lot!
DJI FPV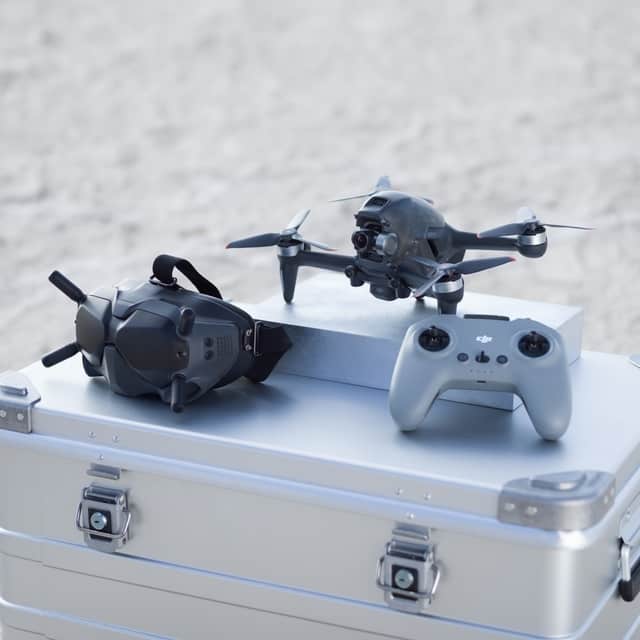 DJI FPV is a great long range FPV drone suitable for beginners. It is extremely user-friendly. I'd recommend this to anyone who wants to fly a non-competitive FPV. You can get the DJI FPV from the link below or refer to my review here.  
The video output power of DJI FPV is limited to 25 mW in many countries except the US. You will need to unlock the maximum power output to enjoy the long range feature.