Toothpick drones are becoming increasingly popular in recent years. If you are planning to buy one, you are at the right place. I've curated a list of toothpick drones, and come out with the best toothpick drones that you can buy in 2023.
Best Toothpick Drones for 2023
Here is the list of the best toothpick drones you can get in 2023. Note that I've included affiliate links. If you make any eligible purchases through those links, I will earn some commissions at no additional cost to you. This helps me maintain and update the site with more useful contents. 
| | | | |
| --- | --- | --- | --- |
| | Flywoo Firefly 2S Nano Baby 20 | | |
| | | | |
| | | | |
| | | | |
| | | | |
| | | | |
| | | | |
| | | | |
| | | | |
| | | | |
| | | | |
Flywoo Firefly 2S Nano Baby 20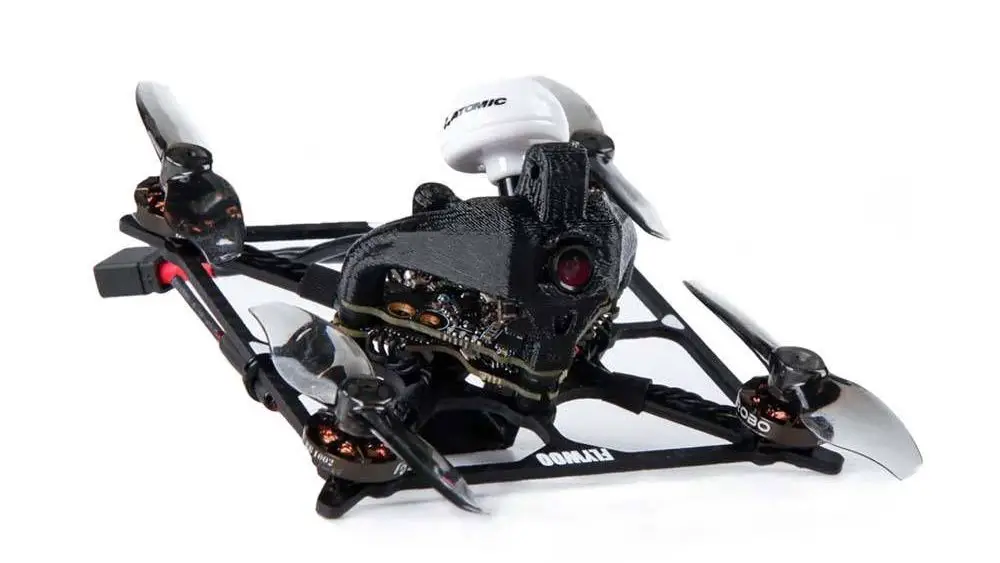 The Flywoo Firefly 2S Nano Baby 20 is a powerful, lightweight toothpick running on 2" props and 2S batteries. It is extremely durable thanks to its square frame design,
There is a mounting hole on its canopy that allows you to mount smaller action cameras, such as the Caddx Peanut (buy on Amazon or GetFPV). However, the camera mount is not included.
Using the recommended Flywoo Explorer 420 mAh and 750 mAh batteries, you get around 5-10 minutes flight time. The 420 mAh battery gives you more power due to being lightweight, while the 750 mAh battery gives you more juice. You can use other batteries, but they may not fit the battery holder that comes together.
There are 4 key highlights making this toothpick worth getting. First, it has an ELRS receiver, which is the best radio link protocol in my opinion. There are also options for other radio receivers and PNP.
Second, the VTX output can go up to 450 mW, which is higher than many other toothpick drones. This gives you a strong signal and clear video.
It also has a black box, which is uncommon in toothpick drones. The black box makes tuning and troubleshooting your toothpick easier. 
Lastly, there are both analog and digital FPV editions for this drone. For those planning to fly only digital FPV, Flywoo 2S Nano Baby 20 is the one you should get. 
Perhaps the only downside of this toothpick is that the camera angle cannot be adjusted. You will have to accept that, and get used to it.
Firefly Nano Baby 220 also comes with a barometer to measure altitude, which is not so useful for a toothpick drone in my opinion.
DarwinFPV Tiny Ape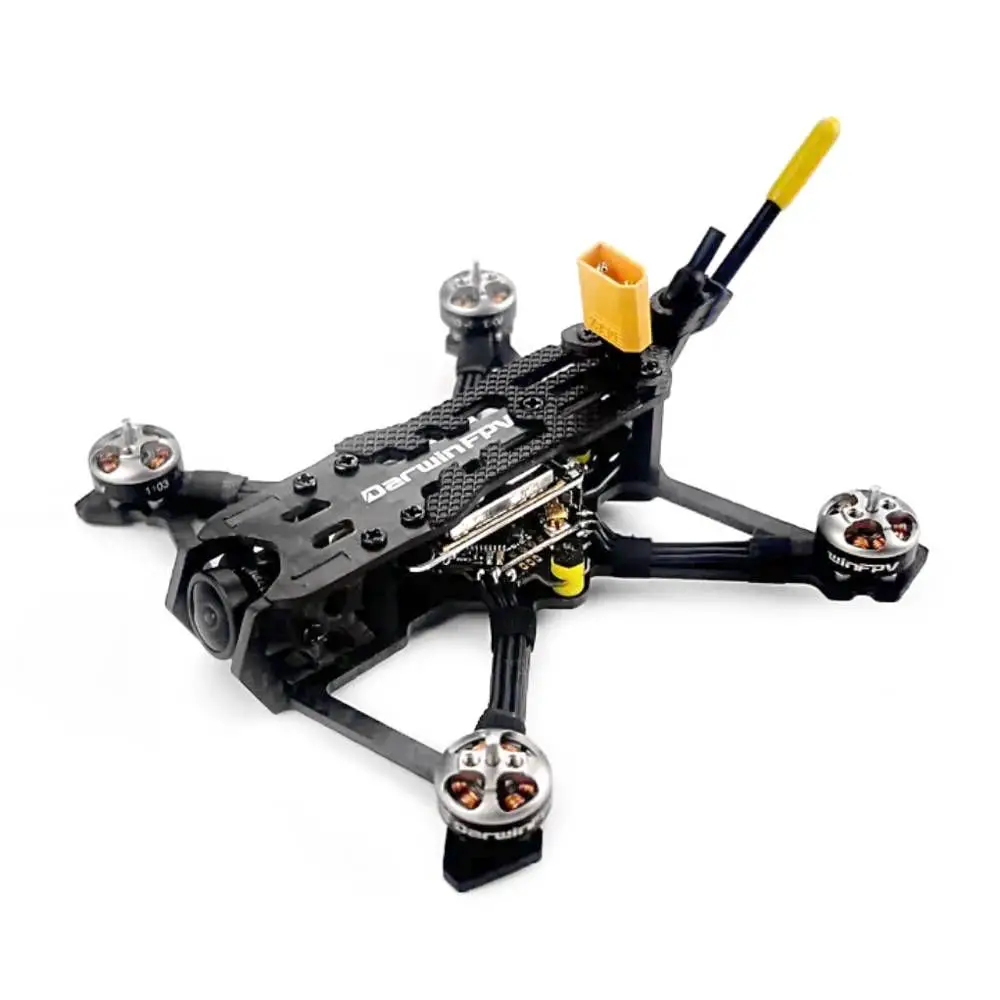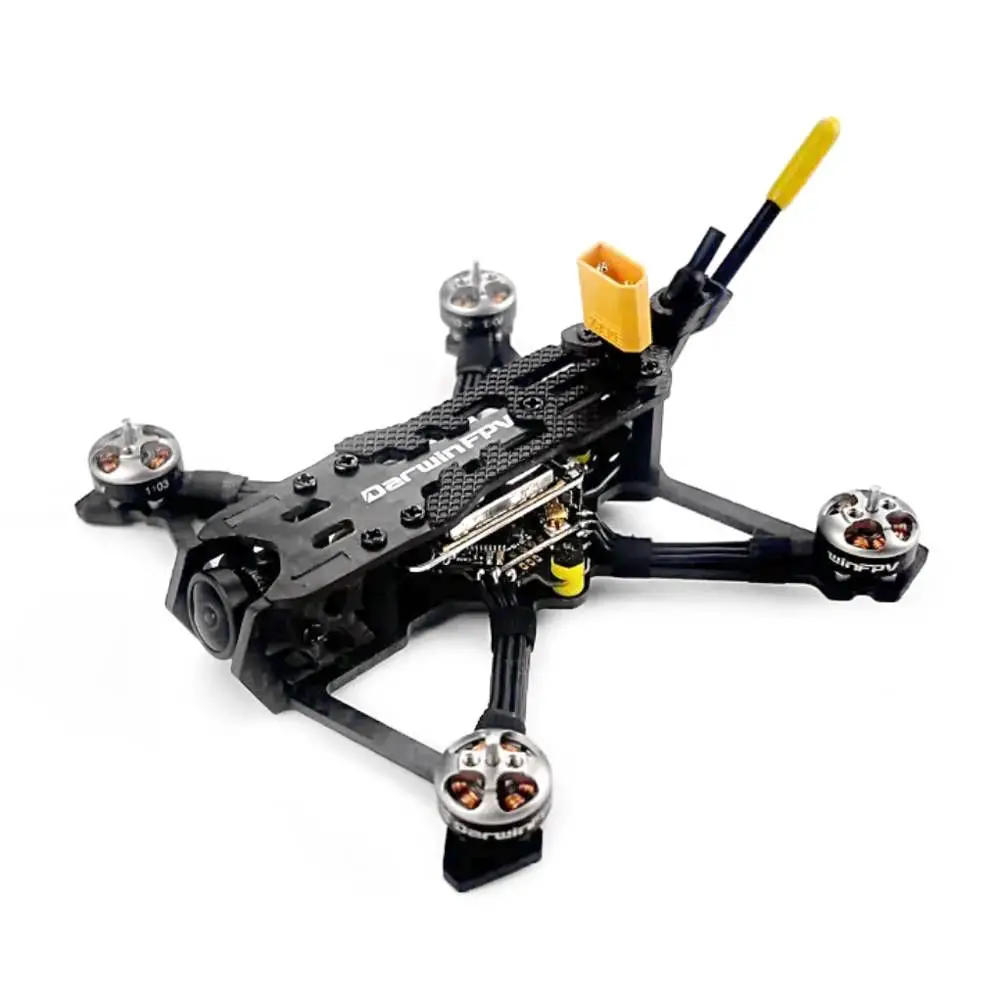 Darwin FPV Tiny Ape is the cheapest worth having a 2.5" toothpick drone with an ELRS receiver. It flies smoothly with its predefined PID tuning.
It has a powerful VTX capable of 600 mW output, which is the highest VTX output in this list. Coupled with the built-in ELRS radio link protocol, you will be getting a strong signal and longer range.
The Tiny Ape comes with an expensive Runcam Nano 4 with decent video quality. You can also mount a small action camera like Caddx Peanut (buy on Amazon) on this toothpick. 
This toothpick comes only with the ELRS version. There is no PNP version. That means you must have an ELRS transmitter to operate it.
HGLRC Petrel 120x 3" 4-6S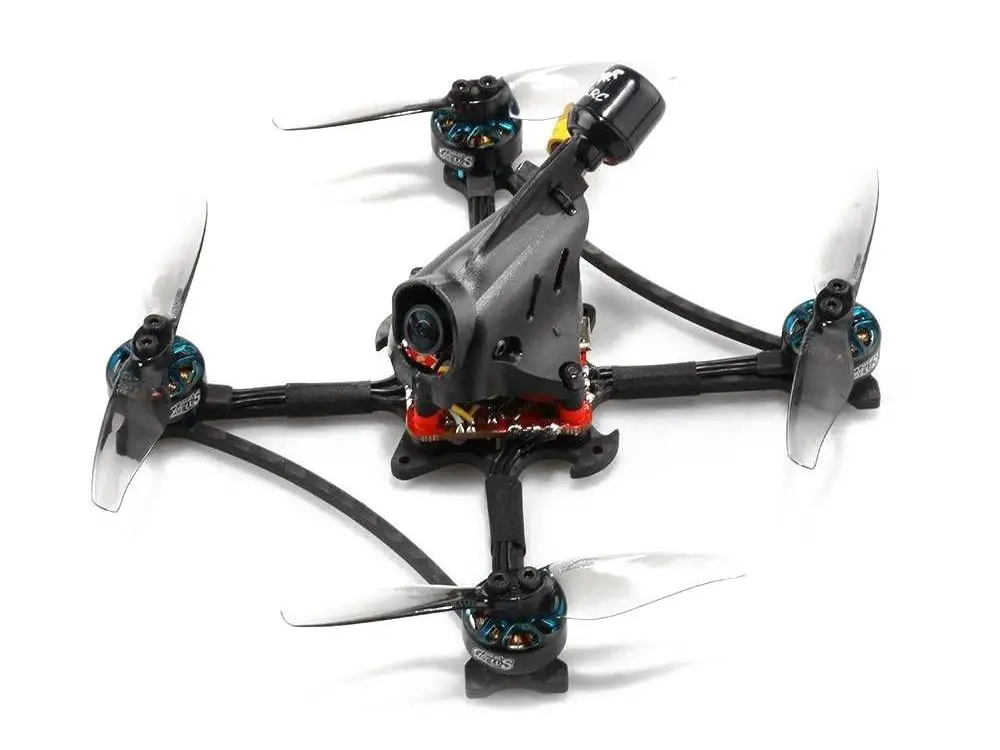 The HGLRC Petrel 120x is a powerful beast! Even though it is only a 3" toothpick, it supports 4-6S LiPo. That gives it the power to fly at lightning speed.
The Petrel 120x uses a high performance flight controller with an F7 processor. This is quite rare, because most toothpick drones are still using the old F4 FC. There is a black box on the FC which allows you to easily troubleshoot and tune your toothpick.
The Caddx ANT on this toothpick is a decent nano camera that gives you clear video. You can easily adjust the camera angle to suit your flight style.
The VTX on Petrel 120x can support up to 350 mW output, which is higher than the standard 200 mW.
In terms of radio link protocol, you can choose from ELRS, FrSky XM+, Crossfire or PNP.
There are a few versions of Petrel 120x to choose from. You can get the 1-2S or 3S version if you think 4-6S is too much for you to handle. You can even get the Pro version with bigger motors and more powerful ESC. There is also an option for digital instead of analog FPV system.
What is a Toothpick Drone?
It is often agreed that a toothpick drone is a small and lightweight micro quadcopter using 3" or smaller propellers without pro guards. Because there is no standard definition for toothpick drones, some larger drones are marketed as toothpicks. But in general, toothpick drones are all lightweight.
Why Flying Toothpick? What are the Advantages?
Being small and lightweight, toothpick drones have their own advantages compared with bigger and more powerful FPV drones. Such advantages make them desirable for many hobbyists.
Affordable Price
Toothpick drones use smaller motors, smaller cameras, smaller frames and all-in-one parts. All these translate into an affordable price. 
At the moment of writing, toothpick drones cost about $100 to $200, while a 5" drone easily costs more than $400. 
Exemption from Certain Legal Requirement
The use of unmanned aircraft, including drones, is regulated in many countries. Exceptions are usually given to lightweight drones. Hence, flying toothpick drones allow the pilots to be exempted from certain restrictive regulations.
For instance, in the US, the FAA states that all unmanned aircraft weighing 250 g and beyond need to be registered. This means you do not need to register your toothpick drone since it is not more than 250 g. Otherwise, it shouldn't be called a toothpick. 
Since lightweight toothpick drones do not need to be registered, they are also exempted from bearing a remote ID.
Having said that, you will still need to comply with all other regulations concerning drone operations, which include taking the TRUST test and having a ham radio license.
Durable
Despite having thin frames, toothpick drones are more durable than you would imagine. This is because the toothpick drones are lightweight, which means the impact upon collision is much smaller than a typical 5" drone.  
Agile and Powerful
Due to its lightweight setup, toothpicks are powerful even with 2S batteries. This makes them fly smoothly outdoors.
Easier Battery Management
Most toothpicks run on 2S batteries, taking away the hassle and risks of managing the more dangerous 4S or 6S batteries. 
What are the Disadvantages of Toothpick Drones?
Due to its small size, toothpick drones are difficult to build and repair. It is challenging to add more peripherals such as a GPS and buzzer. Hence, toothpick drones have limited features. 
Since toothpicks tend to use all-in-one parts such as AIO FC and 4-in-1 ESC, the repair costs can be expensive if those components fail. 
Besides that, toothpick drones are not suitable for indoor use, even though they are just slightly bigger than the tiny whoops. They do not have the prop guards to protect both the props and items in your house from collisions. You need to be very careful with the throttle input when flying toothpicks indoors.
Lastly, toothpicks can be swept away by strong winds because they have smaller and weaker motors.