DJI FPV has hit the market in late Q1 2021. Many people were excited and yet some were disappointed after flying it. One question that people commonly ask is, should I buy DJI FPV? In this review, I will tell you whether you should buy the DJI FPV, and why you should buy it instead of other FPV drones.
DJI FPV – An Introduction
DJI has a new toy for us in 2021, the DJI FPV! It is a pre-built ready to fly FPV drone that works only with the DJI Goggle and transmitter. Weighing 795 g, the DJI FPV is capable of long range flight with HD video.
You can check the price of the DJI FPV from the link below. Note that if you buy it from those links, I'll earn some commission at no additional cost to you.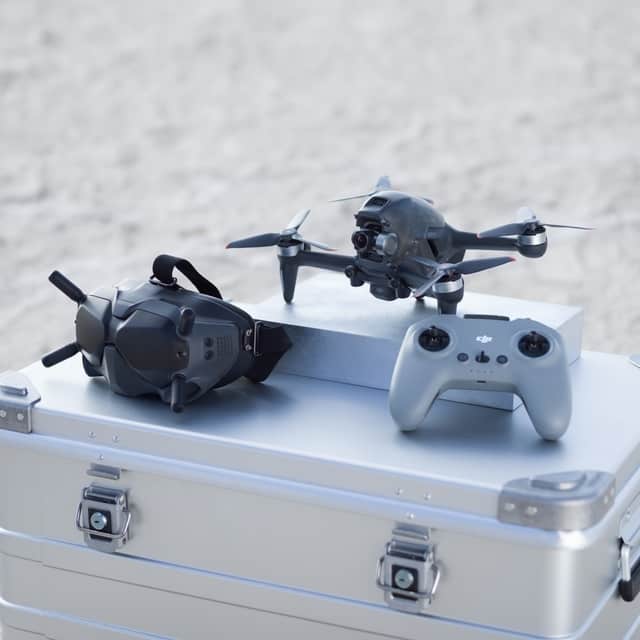 Should I Buy DJI FPV?
Ask yourself these questions:
Are you new to FPV?
Do you need the HD FPV experience?
Do you prefer non-competitive FPV?
Do you love hassle-free maintenance of your drone and components?
Soldering and DIY is a big no-no to you?
Do you prefer to fly a super user-friendly FPV drone?
Are you worried about managing LiPo batteries, which seem to be dangerous?
If your answer is yes to most of the questions, then you should get the DJI FPV. Of course, you will need to have the budget! DJI FPV RTF bundle costs you $1299, which is quite a lot! 
Who Shouldn't Buy DJI FPV?
You should definitely stay away from the DJI FPV if you:
Are familiar with conventional FPV drones and happy flying them
Prefer competitive FPV
Loves customization
Prefer DIY instead of relying on other people to fix your issue
Don't have the budget to join DJI Care Refresh
FPV DJI Flight Modes
FPV drones are difficult to fly. DJI has considered that by including 3 different flight modes: normal, sport and manual mode. 
Normal mode is basically self-leveling mode. In short, it is a beginner-friendly mode where you can easily control the drone without fears of crashing. The max speed at normal mode is throttled to 31 mph. If you just want to fly for leisure, this is the mode for you.
Manual mode is known as acro mode or rate mode in other drones. In the manual mode, speed and most of the safety restrictions are removed. Not only can you fly faster at 97 mph, you can also perform incredible movements. However, it takes hundreds of hours to learn manual mode because the drone is no longer self-leveling.  
Sport mode, on the other hand, is somewhere between normal and manual mode. You can fly faster than the normal mode, the drone self-level and can hold its altitude. Some of the safety features such as obstacle avoidance are not as stringent as when you are in the normal mode.
Useful Features for Beginners
The DJI FPV is packed with a lot of convenient features for those who are new to FPV. Here are the features that I find it particularly useful for beginners and those who are looking for a relaxed flight:
Obstacle Avoidance – slow down when sensing obstacles at the front and bottom (normal mode only).
Return to Home – the drone automatically returns to the launch location when there is a signal issue, low in battery, or when asked to do so via the radio transmitter.
Home Point on screen – shows you the direction of your launch location relative to your drone.
Pause button – "pause" the drone and make it hover when you need a break or when you are panic.
Find My Drone – You can use the DJI mobile app to locate your drone after a crash.
Intelligent Flight Battery – built with several safety features such as auto-discharging and overcharge protection. No more worrying about managing LiPo batteries, which can be troublesome.
DJI Care – helps you to troubleshoot issues and repairs your drone. You don't need to worry about breaking your drone.
DJI FPV Review
So, is DJI FPV good or bad? Well, nothing is perfect. Below are the highlights and low lights of DJI FPV.
DJI FPV Highlights
Here are some of the highlights of DJI FPV:
The drone is super responsive and is capable of performing freestyle moves that can be done by other self-built drones.
It has long range capability, allowing you to fly up to 10 km in an ideal condition. 
The DJI FPV can automatically switch channels between the 2.4 and 5.8 GHz band to give you the best signal.
The video quality is top-notch and crystal clear!
Unlike conventional FPV, it has camera stabilization that corrects the camera angle to give you a smoother image. For instance, in the conventional FPV, the camera will point upward if you fly slowly (since the drone leans forward less when flying slower). But in DJI FPV, the camera continues to adjust itself to point forward regardless of your speed.
It has an onboard DVR (video recording) with up to 4K at 60 FPS at normal mode.
Ready to fly out of the box
DJI FPV Lowlights
The DJI FPV does come with some issues. Some of the issues are from an avid FPV pilot's point of view, which might not be relevant if you, especially if you just want a hassle-free FPV experience.
The DJI FPV comes with only 1 battery. Unless you are OK flying 10-15 minutes, you will need an extra battery. The bad news is, the battery for DJI FPV is expensive, costing you $159 per battery! 
The DJI FPV is not durable enough as an FPV drone because it is made of plastic. Conventional FPV drones normally use the more durable carbon frames. But I guess it is OK since you can always enroll yourself in the DJI Care Refresh program.
The level of customization on the DJI FPV is very limited. At most, you can change the props, and repaint the drone. 
You cannot repair the drone by yourself. In conventional FPV, if you break the arm of your drone, you can just replace it with a spare arm, or change the motor if it fails. Since you can't do that with the DJI FPV, you will need to send it for repair – which means you can't fly it for a few days or weeks. 
Geofencing which prevents your drone from taking off if you are at restricted airspace.
There is altitude limiting in normal and sport mode. That means you can't do mountain surfing unless you switch to manual mode, or unless you take off from the mountain. 
The video output power is limited to 25 mW in many countries except the US, which seriously hampered its performance in long range. Fortunately you can unlock the max power output to 1400 mW. Remember to check out your local legislation as it might be illegal in your country.
Final Thoughts
While the DJI FPV is not perfect, I am really impressed with its features. I personally think that the design of the drone looks unique and cool. From my perspective, I feel that the DJI FPV really lowers the entry barrier (not in terms of price though) for those who want to step into the FPV hobby but are deterred by the complexity of this hobby. I hope that DJI can come out with an even better and cheaper FPV drone in the future.
If you think DJI FPV is not for you, you can check out my recommended pre-built FPV drones here.
Commonly Bought Together
Here are the things that I recommend you to buy together with your DJI FPV:
Additional battery 
Most of the FPV pilots will not settle for 10-15 minutes flight time. Get an additional battery or 2 to enjoy your flight better.
DJI Care Refresh
The DJI Care Refresh covers your drone from damages on the drone due to accidents. It also provides you with 1 to 1 replacement (with a small charge) if you trashed your drone in an accident under normal use. Refer to the DJI's official guide to learn more.
Corrective lenses
If you have myopia, get a pair of corrective lenses for your DJI goggles. You can also buy the frames only and get your optometrist to fit them with a pair of prescriptive lenses, if those in stock don't fit your eye conditions.