If you are struggling with choose the best FPV drone frame, fret not! I'll show you the best drone frames and all you need to know about them.
Use a carbon fiber FPV drone frame for better strength and durability. 3" frames are commonly used outdoors while anything smaller is good indoors. The arms should be thick enough to withstand crashes. If you race often, use a true X drone frame. But if this is your first build, use hybrid X.
Choosing an FPV drone frame can be difficult because there isn't much "specs" to look at. Most of the time, we are tempted to choose a frame that looks cool. However, aside from the aesthetic consideration, we should also look at other qualities of the frame to decide if it justifies the price and fulfills our needs.
Continue reading to learn more.

FPV Drone Frame: What Is It?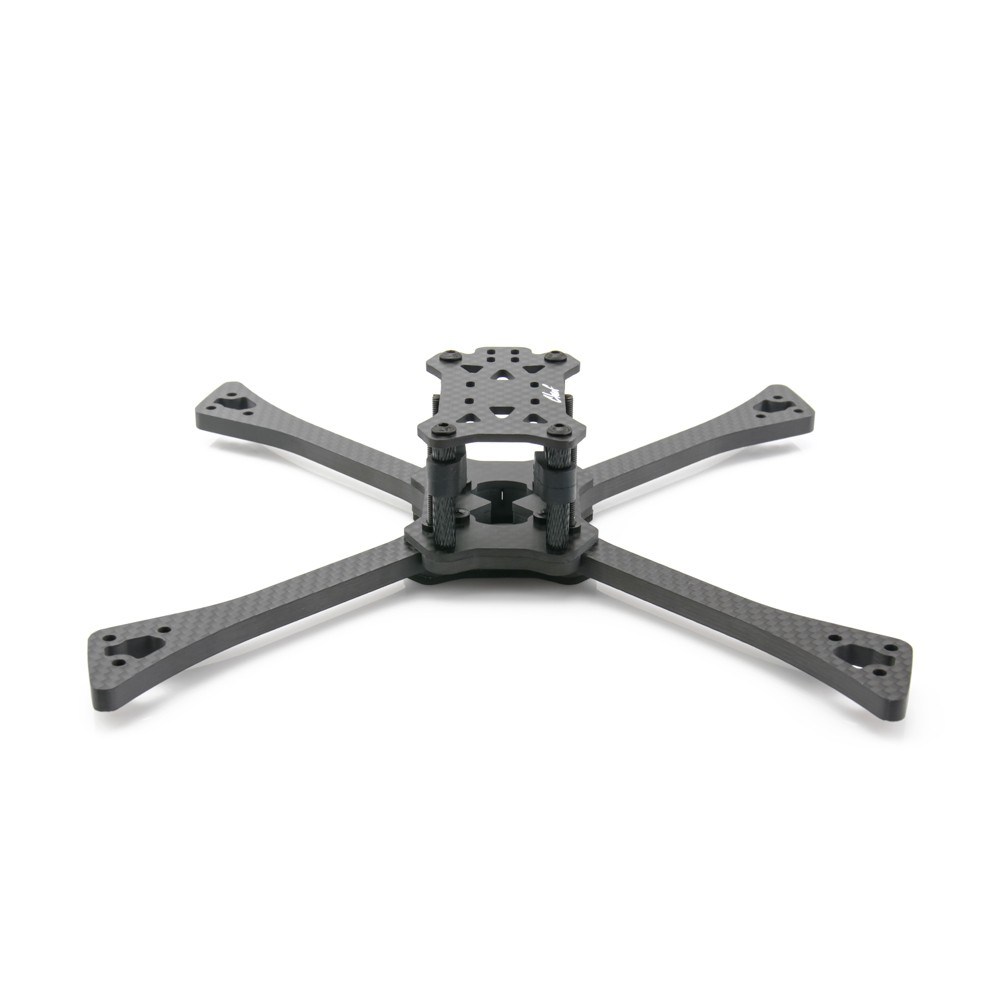 The drone's frame is essentially the most basic part there is a setup. It serves as the base for everything else and exists to support and contain all the components necessary to build a drone. 
Drone frames typically consist of a bottom plate with arms and a top plate or cage that holds the drone components in between. The arms may or may not be a part of the bottom plate.
Apart from that, it is also the component that ultimately dictates the viable parts that you can use to build the rest of the drone. Everything from its size, material, thickness, form, and space will greatly impact your build and sometimes even limit it to some extent. 
Furthermore, materials and designs of the drone frame will also affect the durability and the level of protection that internal sensitive components have, essentially allowing it to make or break your drone. 
Therefore, knowing how to choose the right frame for your envisioned drone setup is important.
Best 5″ FPV Drone Frames 2023
There are lots of different frames by different manufacturers out there. I've compiled some of the commonly used 5″ frames to help you choose. Note that I've included affiliate links in the tables. If you make any purchases through my links, I will get a small commission for qualified purchases. This helps me to maintain the site without additional cost to you.
Best Racing Frames
| | | | | | | | | |
| --- | --- | --- | --- | --- | --- | --- | --- | --- |
| | | Hyperlite F3LX True-X Racing | | | | | | |
| | | | | | | | | |
| | | | | | | | | |
| | | | | | | | | |
| | | | | | | | | |
| | | | | | | | | |
| | | | | | | | | |
Top Freestyle Frame
| | | | | | | | | | | |
| --- | --- | --- | --- | --- | --- | --- | --- | --- | --- | --- |
| | | | | | iFlight Titan DC5 v1.4 HD | | | Lumenier QAV-S Bardwell Edition | | |
| | | | | | | | | | | |
| | | | | | | | | | | |
| | | | | | | | | | | |
| | | | | | | | | | | |
| | | | | | | | | | | |
| | | | | | | | | | | |
Note that all of those frames have separate arms except Armattan Marmotte. It comes with warranty so its OK to break the arms!
Drone Frame Material
Selecting the right material is important in such a way that it adjusts the strength and speed of your drone, one way or another. Surely, you would never want your drone to break after a small crash, wouldn't you?
As such, knowing which materials to select for the make-up of your drone frame will help boost the protection of your drone, adjust the weight of the entire setup, and alter its stability while flying.
Carbon Fiber
Carbon fiber is the commonly used material in numerous frames currently available in the market. This material offers strength and rigidity without compromising its weight and balance. It seems like the perfect candidate for a drone frame, seeing as how your main goal should be to protect the components before everything else.
However, all good things come with a catch. The material is by no means cheap – making it less viable for many hobbyists and casual racers. In addition to that, carbon fiber is slightly conductive. You need to insulate wires or electronic joints that may touch the frame to prevent short circuit.
Generally, carbon fiber is an excellent option for durable and lightweight builds, but not for people who are planning on cutting corners.
Plastic
You may also opt for plastic if you are somehow hesitant to use a material that interferes with your radio signal. Many plastic frames are made up of high density polyethylene (HDPE). It provides sufficient strength to withstand significant impacts without sustaining damage. 
While plastic is not as strong as carbon fiber, if you are trying to weigh your possible options along with its benefits and disadvantages, it may be worth considering too.
Aluminum and Fiberglass
Both aluminum and fiberglass frames are seldom used, as their benefits are not worth considering, especially because their disadvantages make them less ideal for agile and fast FPV drones.
Aluminum provides strength, and there is no doubt about that. However, it is heavier than other materials and it requires a more powerful motor to run the drone. The motor will then add on to the overall weight, making the building of a drone using an aluminum frame more puzzling than ever to figure out the right balance. 
Fiberglass, on the other hand, is second to carbon fiber in terms of strength and rigidity. However, it easily bends out of shape when it crashes, which affects the stability of the drone.
Frame Size and Drone Size
If you are an avid FPV racer, you might already be familiar with the specification requirements of various races. All of them have certain rules regarding the size of your drone, and this is mainly attributed to the frame size. 
The frame size is usually referred to as the "wheelbase," often indicated within the name of the frame. Frame size is measured by the distance between 2 diagonal motors, in millimeters. A 210 frame means the distance between the motor at the front left arm and the one at the rear right arm is 210 mm.
A more common way of addressing the size of FPV frames is by referring to the size of the props supported by the drone frame.
The table below shows the frame sizes and the maximum prop sizes that each of them can usually support. For instance, if I am using a 210 frame, most likely the frame can support up to 5" props, and I will call my drone a 5" drone. Technically you can use 4″ props for that frame but most people will use 5" instead, for maximum thrust and speed.
| Frame size | Arm thickness | Props size |
| --- | --- | --- |
| ≤ 150 mm | 2.5 mm | 3″ |
| 180 mm | 3 mm | 4″ |
| 210 mm | ≥ 4 mm | 5″ |
| 250 mm | > 4 mm | 6″ |
| 350 mm | > 5 mm | 7″ |
| ≥ 450 mm | > 5 mm | ≥ 8″ |
Frame size, recommended arm thickness and maximum supported prop sizes
If you are planning to fly indoors, a frame size of 120 mm or smaller might be the most ideal for efficiency and safety reasons. If you fly mainly outdoors, you'll need a bigger drone for a more stable and strong flight. 
Many prefer to build drones using frame sizes below 150 mm because it provides added versatility and flexibility, exemptions from certain flight regulations due to lower weight of final build, and of course, some cost savings, given that smaller components that go with smaller frames usually are far cheaper than larger ones. 
On the other hand, although frame sizes greater than 200 mm will expose you to the opposite of the former's benefits, it will somehow provide you with additional options when choosing the components that you want to be included in your build. For instance, you can use stronger but larger motors due to the larger space available within your frame. 
In short, decide the frame size or drone size based on your purpose and necessary specifications.
Thickness and Width
Thicker and wider plate and arms translate to a stronger frame which can withstand more impact from a crash. However, the drone gets heavier, which lowers its speed. 
Given the likelihood of impacts from crashes are usually on the arms, the top plate and other parts of the frame are usually made thinner than the arm to lose some weight.
Refer to the previous table for recommended arm thickness. Freestyle pilots can use drone frames with thicker arms for extra durability, while race pilots may use thinner arms for a lighter build.
Deciding on the Layout of the FPV Frame
Despite the misconception that layouts are mainly focused on aesthetics and beautification, choosing an FPV frame with the right layout is also essential in making sure that your drone's aerodynamic properties are refined down to a point.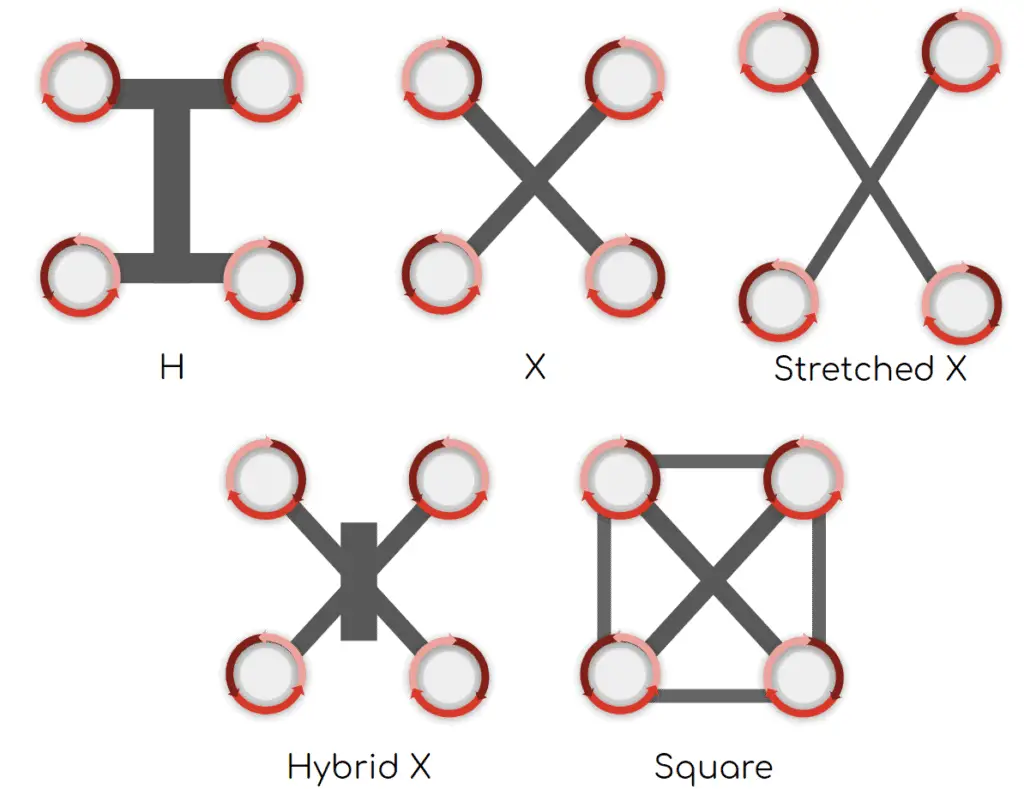 H Drone Frame
The H layout frame is simply a frame in the form of an H, with the arms sticking out directly from its body. This is essential when you are trying to avoid the blades from touching the components on your FPV drone.
However, but this feature is not optimal for building a great moment of inertia. In addition to that, it is also quite bulky (a disadvantage when going lightweight) and the motor positioning is also less ideal.
The good thing about H frame is that it allows more components or bigger components to be built into your drone. There is plenty of space for you to do your components assembly as well.
True X Drone Frame
The true X drone frame, as the name implies, is shaped like an X with equidistant motor positioning and balanced motor performance during actual flight. This layout put all components at the center of the drone for a better distribution of weight, and subsequently better aerodynamics.
The true X frame also has a smaller surface at the middle compared with the H frame. Hence, there is lesser air resistance, which means faster speed. This is why true X drone frames are commonly in FPV races.
The downside of the X frame is that it is harder to build because everything is crammed together at the center of the drone.
Hybrid X Drone Frame
The term "hybrid" will probably confuse many. It essentially combines the best features of an H and X layouts into one: a longer middle body and X layout arms, each one rounding out the other's weaknesses to make a superior layout.
The longer body on the FPV frame allows for increased versatility with the component selection. It gives more space for you to install your desired parts. Meanwhile, the X layout on the arms provides balanced motor performance. 
The hybrid X frame is suitable for those who want to build their first racing drone as it gives more space to work on, without sacrificing too much on performance.
Stretched X Drone Frame
The stretched X frame is like the true X, but it maximizes the distance between the rear and the front propellers by having longer arms. 
The reason for the stretched arm is to minimize the turbulence of air between props. As a result, you will have a more stable cornering at the cost of heavier weight. This layout may also result in an uneven weight distribution, but a little tweak with the body's setup will usually do the trick.
Square Drone Frame
The Square drone frame is a variation on the X layout, where it reinforces the arms by connecting the points of each arm, essentially creating a square on top of an X. 
This reinforcement strengthens the entire frame and makes it less susceptible to damage during impacts. The additional strength sacrifices a little bit of speed due to the additional drag and weight, but it certainly makes your drone a little sturdier and stronger than compared to the other layouts.
You probably want to consider a drone with square layout as your first FPV drone. 
Unibody vs Separate Arms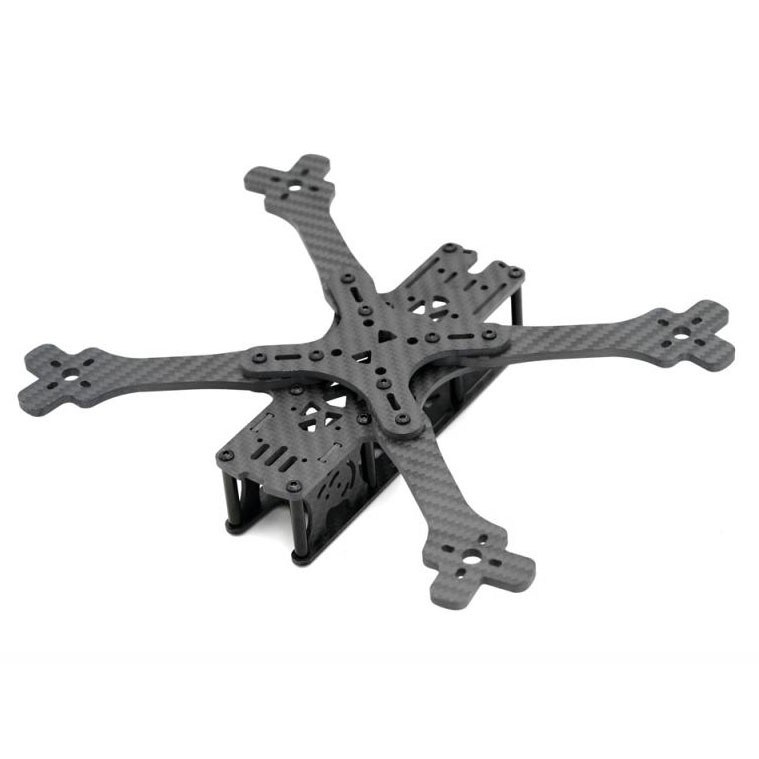 An FPV drone frame with a unibody design has its body and arms manufactured as 1 single piece. That creates a stronger and more rigid build. In an unibody design, the arms are the extensions from the bottom plate itself, which is less susceptible to impact and dislocation. 
Although unibody FPV frames are slightly stronger build, there is a risk of having to replace the entire plate when an arm breaks off. Other than that, there is no significant drawback to its design.
In contrast, "separates arms" is a design where the arms can be detached from the plate. If you break 1 arm, you just need to replace the broken arm which is cheaper than replacing the whole frame.
However, since the arms are secured to the frame through screws and nuts, you will need to tighten them from time to time as they get loose from vibration and impact from crashes.
Long range and cinematic FPV pilots can benefit from unibody drone frames since the frequency of crashing is relatively low. Meanwhile, freestyle and racing FPV pilots typically go for separate arm drone frames because crashing is part of their routine.
Spaces to Fit Your Components
Each frame has different space allowances to fit your FC, ESC, camera, etc (do check out my recommended FCs and ESCs). If you are trying to replace your broken frame with a new frame, pay attention to the stackable height, and supported ESC/FC/motor mounting sizes (eg. 30.5 × 30.5 mm vs 20 x 20 mm) so that it can accommodate your existing parts.
Another important spec to look at is the supported camera size. FPV cameras can be classified into 4 size categories based on their width:
Full size: 28 mm
Mini: 21 mm
Micro: 19 mm
Nano: 14 mm
A drone frame can support smaller FPV cameras by using a mount that might come with the camera. But it cannot fit a bigger camera.
If you want to include the older DJI Air Unit (not the new O3 Air Unit) into your build, you will need to use a compatible drone frame, since the Air Unit is quite bulky.
Extra Protection Features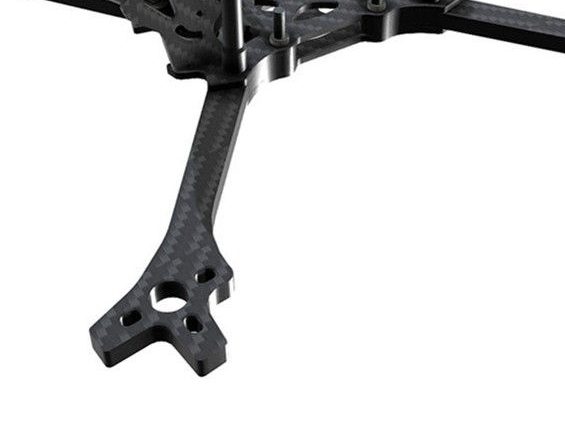 If not protected properly, both the camera and motors are susceptible to damage from crashes. Many manufacturers have included camera guard and motor guards on the frame. They may come in the form of protrusion, plastics attached to the tip of the arms, or metal brace at the camera mounting. This gives you some assurance on the durability of your camera and motors, since they are expensive.
Warranty
If you want a little safety measure in case your frame breaks, it might be wise to purchase a frame from a supplier who is offering a warranty along with the product. Just bear in mind that most frames don't provide warranty! 
A warranty protects your wallet from additional replacement costs. You would need to bear the shipping cost for replacement though. Note that the manufacturer may require certain documentation such as proof of purchase, photos of a damaged frame and etc.
One of the notable brands that provides lifetime warranty is Armattan. I've not bought an Armattan FPV frame before, but it seems to receive a lot of positive reviews, due to its simple claim process. Their price is, of course, more expensive than those without a warranty.
Its a good idea to have 2 sets of drone frame, since it may take time for the seller to ship you the replacement.
Price
How much would you pay for your drone frame? It seems to be just a piece of plastic or carbon fiber which doesn't use any sophisticated technology. 
Well, like other drone parts, cheap frames usually means low quality. However, an expensive frame doesn't mean good quality either! 
You should always consider the material, sizes, width and thickness of the frame, as well as warranty, if any, to decide if the frame is worth the money. Always compare a few options before you make a decision. Some people are willing to pay more for the brand name for peace of mind, while some would go for cheaper OEM. It's all up to you.
Final Thoughts
Being the simplest component, the FPV drone frame is a basic building block that has no less importance than the other components. Make sure you consider all the criteria listed in this guide to decide which frame fits your needs the most. After all, you don't want to waste your money for either cheap or expensive stuff which doesn't help you.