Are you considering flying under the Federal Aviation Administration (FAA) Part 107 so that you can use your drone for commercial purposes? Here's all the information that you need to know about getting FAA Part 107.
To register under FAA Part 107, study the FAA remote pilot materials or take online Part 107 courses. Then, register yourselves in IACRA to get an FTN. Once you are ready, register for your UAG exam. The exam costs $160. After you pass, apply for a remote pilot certificate and register your drones with the FAA under Part 107.
Continue reading to learn more.
What's Part 107 and What Does It Cover?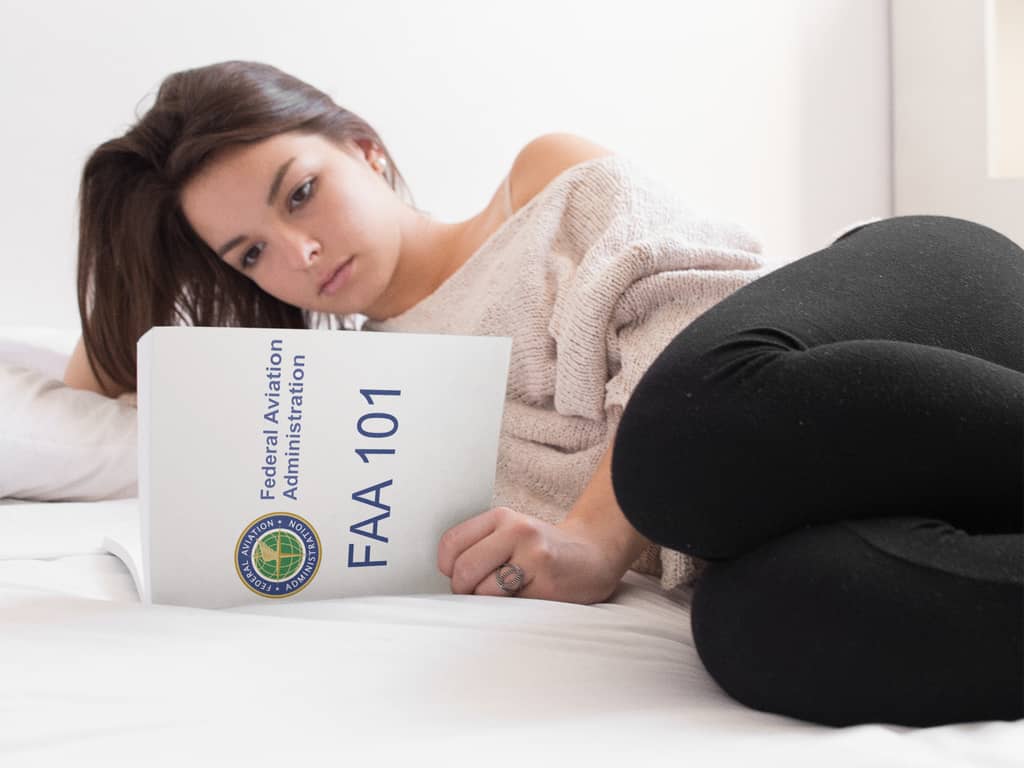 The Small UAS Rule, also known as Part 107, is a set of guidelines released by the FAA regarding the registration of unmanned aircraft systems like drones.
Part 107 was implemented in 2016 by the FAA when there was a huge surge of people starting to pick up their own drones. The FAA required drone owners and pilots to register their unmanned aircraft systems through Part 107. Definitely, this is one of the first few steps that you shouldn't skip on. 
The Part 107 regulates the use of drones for business or work purposes. For as long as you are compensated or rewarded for operating your drone, you need to register under Part 107. And that includes activities such as creating and monetizing contents through the operations of your drone (eg. Youtube channel), filming your friend's wedding using drone and getting compensation for that, as well as racing in a competition with prizes.
Registering your drone is important to make sure that you're flying within legal boundaries. It's worthy to note that the FAA has been strict when it comes to drones since their popularity has risen, both for hobbies and industrial-use.
You DON'T NEED to register under Part 107 if you're only flying strictly for fun and recreational use. However, you still need to register your drone regardless, under the Exception for Recreational Flyers, and take the free Recreational UAS Safety Test (TRUST). In case you are not sure if you need to register under Part 107, use this tool from the FAA to help you.
Requirements on Remote Pilot License
Acquiring your remote pilot license is covered under FAA Part 107. The remote pilot license is legal proof that you have an in-depth understanding of the FAA regulations, operating requirements, and safety procedures for drone flying.
For first-time pilots, here are the eligibility and requirements that you should take note of:
You should be at least 16 years old.
You should be able to read, speak, write, and understand English.
You should be in mental and physical condition to safely fly a drone.
You should pass the initial aeronautical knowledge exam.
Your remote pilot certificate is valid for 2 years only. To renew your license, you need to take the free recurrent training to revisit critical knowledge and make sure that you are aware of the latest rules and regulations.
How to Get A Remote Pilot License
Getting your remote pilot license requires you to pass an exam that tests your knowledge about flying your drone properly and safely.
The FAA test has 60 multiple-choice questions that you have to answer within two hours. To pass the exam, you should get a score no lower than 70%, or get at least 42 questions correct. The remote pilot license exam is hard. But with enough preparation, you'll surely pass.
The cost per exam is $160. It might be cheaper at certain test centers, but most of them charge $160. Note that I mentioned the cost is per exam. That means if you fail the exam, you will have to pay $160 for retest. There is a 14 days cooling-off period before you can retest.
Studying for Remote Pilot Test
The FAA released free materials that you can study for the remote pilot test. These materials include Airmen Certification Standards, Knowledge Test Study Guide, Pilot's Handbook of Aeronautical Knowledge, and practice exams. It's really important that you should review these study materials carefully.
Here are some topics that are included in the exam:
FAA drone laws
National Airspace System
Flight restrictions
sUAS loading and performance
Aeronautical charts
Airport operations
Aviation weather
Radio communications
Maintenance and preflight procedures
Crew resources management and aeronautical decision-making
Flight hazard and emergency procedures
Pilot physiology
The materials provided by the FAA would be enough for you to study and pass the exam. However, you might want to consider taking some courses dedicated to helping you pass the exam. This would cut down your study time as the courses focus on key points. Moreover, a good course instructor explains things clearly so you won't be baffled by some of the difficult contents. If you think you don't have the discipline and time to read and understand the boring materials, and need someone to guide you, online courses are a good option. 
Drone Launch Academy is one of the best providers offering the best remote pilot certification study course. I like it because it offers lifetime access and it updates its content with the change in regulations. Use my affiliate link to get a $50 off.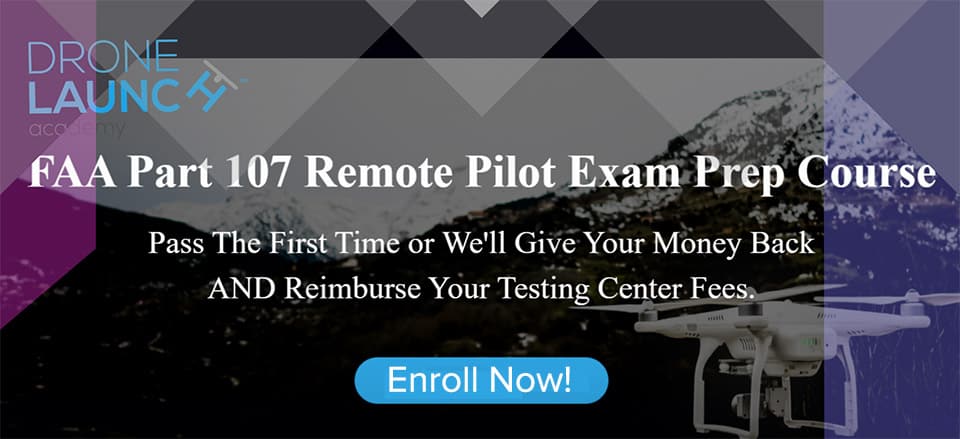 Another option would be the prep course by Greg Reverdiau on Udemy. This course is already updated with the latest change that will be implemented in March 2021.
How to Register for Remote Pilot License Exam
Registering for your remote pilot license exam is easy enough thanks to their online application. Follow these steps to schedule an exam appointment with the FAA:
1. Create an IACRA account for your FAA Tracking Number.
Before you do anything else, set up your profile on the website of IACRA. Read their New User Guide to help you register as an applicant in IACRA.
Once you've completed your IACRA registration, your FAA Tracking Number will be displayed. Your FTN will also be emailed to you.
2. Create an account on FAA Airman Knowledge Testing (PSI Exam)
After you received your FTN, head on to the FAA-approved Airman Knowledge Test Center (link here) to schedule your pilot's exam. You should be selecting Unmanned Aircraft General – Small (UAG) – Initial. Always double check with the FAA's guideline before registering if you are in doubt..
3. Look for the nearest Knowledge Test Center and schedule your exam.
Once you have your account on PSI Exams, click on the "Find a Test Center" tab and look for the nearest test center near you. You can filter locations by putting your postal code and how far you're willing to travel from your location.
Locate your preferred testing center then schedule an appointment. Make sure that you give yourself enough time to study! 
What's Next After the Exam?
If you have passed your exam, you will be given an instruction on what you should do subsequently. 
Basically, you need to log in to your IACRA to start a new application as "pilot", under the certificate "Remote Pilot". You might need to wait for a few days for your exam result to be updated in the IACRA. Once the application is approved, you can print out your temporary certificate. 
It may take 1-3 months to receive your remote pilot card and your certificate. Once you have your card (the plastic), make sure that you carry it with you at all times whenever you're flying your drone.
Don't Forget to Register Your Drone
You can register your drone online through FAA DroneZone. For online registration, just go to this website and follow the steps given by the FAA
In order to register, the FAA will ask for your email address, physical and mailing address, the make and model of your drone, and your credit or debit card information. Only US citizens or legal permanent residents above age 13 are allowed to register. If you're below the age of 13, you should ask for someone older to register on your behalf.  It costs $5 per drone and the registration is valid for three years. 
Additional Information
If you are flying drones, especially FPV drones, you will likely require a ham radio license. I have a guide on ham radio license if you need more clarity.