The market is filled with hundreds of FPV goggles ranging from not more than 50 to 600 bucks. The one costing 600 bucks is definitely better than the one that costs 50 bucks. But what should you consider when choosing the right FPV goggles?
Decide whether you want to go for digital or analog FPV, as they may require different goggles. Look for FPV goggles with a high resolution, and adjustable aspect ratio and IPD. Receiver module, if included, should support diversity. Fan and DVR are basic. If you have myopia or hyperopia, your goggles should allow focal adjustment or support diopter lenses.
Choosing the right FPV goggles is crucial because, like your radio transmitter, you will use it for a long time. There are a few details to look at when making your decision, so that you choose the one that suits your current and future needs.
But of course, if you just want some recommendation, check out my list of best FPV goggles.

Digital vs Analog FPV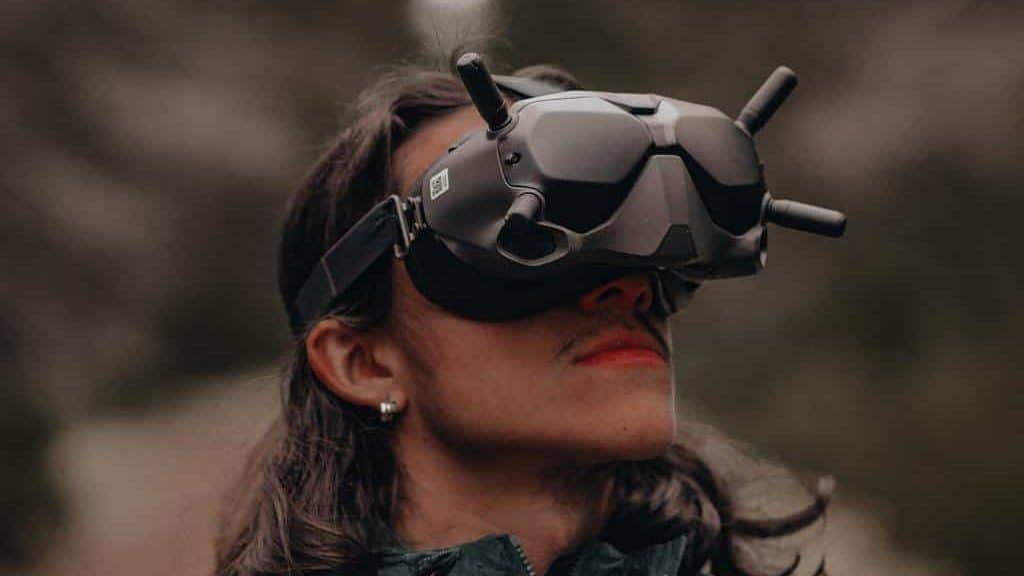 FPV can be classified into digital and analog, depending on the way the video signal is transmitted. In short, analog FPV transmits video through analog signals, while digital FPV transmits video through digital signals. So, what does that mean to you?
Digital FPV gives you a crystal clear video, while analog FPV gives you a lower quality video. Moreover, digital FPV is less prone to interference and supports a longer range. However, digital FPV is much more expensive and has limited options. The bulky size and weight of digital FPV systems limit the build to bigger drones.
Do check out my guide that compares different digital FPV systems to help you choose the best one.
Video Quality
Undoubtedly, digital FPV gives a much clearer video than the analog system. A digital experience can definitely "wow" you, especially if you have experienced a low end FPV video before.
When the signal strength is low, analog videos flicker, or freeze. This directly impacts your visibility on the drone. In digital FPV, the video resolution simply becomes lower when the signal strength is weak. 
The video below shows you the difference in terms of video quality between digital and analog FPV.
Susceptibility to Interference
Analog signals can be easily affected by interference from the surrounding environment. This affects the continuity and quality of the video feed. On the other hand, digital signals are less susceptible to interference. This ensures you have a consistent video quality throughout your flight.
Range
Digital FPV such as the DJI and HDZero systems allow long range video transmissions. While analog FPV can achieve the same (or perhaps better) range, additional setup such as a ground station is often required.
Cost
To fly digital FPV, not only do you need a digital FPV goggles (or a digital receiver), you will need a compatible video transmitter (VTX), video receiver (VRX) and a compatible camera. All those parts are more expensive than their analog counterparts. 
Fat Shark Recon HD is the cheapest digital FPV goggles. It comes with built-in VRX, and costs you around $300. You need to fork out another $120 for a compatible camera and VTX. Meanwhile, the cheapest analog FPV goggles cost only $60. Add another $50, and you can get a decent camera and VTX.
Options
With analog FPV, there are a lot of goggles that you can choose from companies like Eachine, EMAX, Fat Shark, Orqa FPV, and Skyzone. On the other hand, only DJI and Fat Shark/Walksnail make digital FPV goggles. Orqa FPV and HDZero will probably join the rank soon.
Latency
Latency is the delay between the time data being sent and being received. If the video signal sent by the VTX is picked up by the VRX after 1 second, it means the latency is 1 second.
Analog FPV generally has a low latency of 1 ms between the VTX and VRX, which is really fast. While digital FPV suffered higher latency in the past, this is no longer an issue now! HDZero's VTX/VRX for example, has a latency below 1 ms.
Overall, the latency should no longer be a concern when considering whether you should go for digital or analog FPV. 
Should You Go for Digital or Analog?
Have you made up your mind on whether you should go for digital or analog FPV? Here's my take:
If you think analog video is acceptable, or if you just don't have the budget, go for analog FPV. Analog FPV is much more affordable.
If you will be flying mainly pre-built drones for racing, and you don't want to build your own drone, go for analog. Most pre-built drones with digital FPV use DJI, which is not ideal for racing.
If a crystal clear video quality is important to you, go for digital FPV! DJI goggles would be your best choice if you are doing freestyle and long range, while HDZero is good for racing. 
If you want to be versatile, you won't go wrong with Fat Shark HDO2. You can swap between analog and digital, based on the receiver module that you are using; While DJI goggles can also support analog with an adapter, the latency is just too high for racing.
Check out my list of best FPV goggles to compare the options you have.
Designs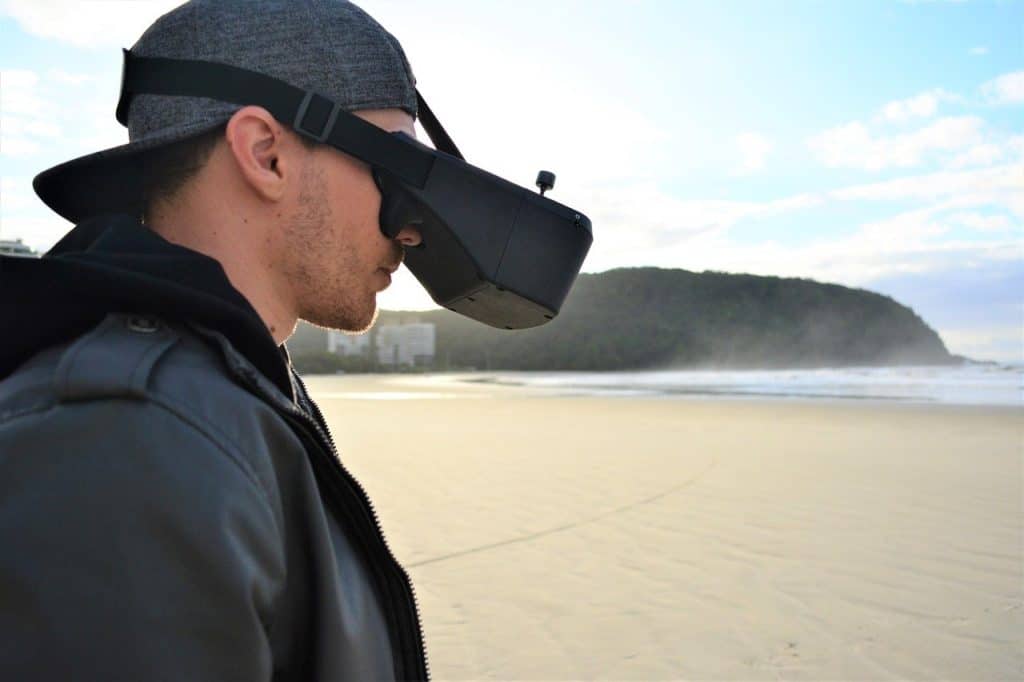 In simple terms, the goggles' design is the type of display that is being utilized by the goggles. This has a direct impact on the comfortability, price, quality of feed, and general aesthetics of the accessory.
Low Profile Design
Low profile compact goggles utilize two little screens that are usually 0.5" in size and display a duplicated image. The small coverage allows for a "slim" gear that is lightweight, small, and easier to carry around.  
Because of the expensive micro displays, this variation costs you more than the "Box" goggles – a relatively fair trade for not looking like your head is inside an Amazon package. Most high end goggles are compact goggles, which makes sense because most people would want their expansive toys to look cool.
Box Design
"Box" goggles, on the other hand, utilizes a single LCD screen that is around 3 to 6 inches in size. The large coverage allows for a greater field of view (FOV) – making it more suitable for those who are looking for a more immersive feel and experience. 
However, a smaller FOV might be preferable for racers to obtain a tunnel vision-like focus during their competitions. Nevertheless, it is still arguably more comfortable and cheaper than compact goggles, making it a superior option for casual pilots and hobbyists.
The Perfect Resolution
Considering that goggles are being used as the sole source of vision for pilots, the image feed must be crisp and clear enough for the pilots to risk extremely precise turns and maneuvers that are otherwise impossible in a blurry situation. 
As a rule of thumb, the higher the resolution, the better the image is – that is, if we are dealing with theoretical assumptions. However, available FPV cameras and the 5.8 GHz analog video transmission system may limit the resolution that is feasible in such a setup.
Aspect Ratio
A display's aspect ratio determines how the video feed is going to be displayed on the screen, subsequently affecting the resolution. 
The common aspect ratio that is utilized for FPV drones is 16:9 and 4:3. There might be higher ratios available, but it often results in a distortion in the image due to a mismatch between the camera and the feed. Make sure your FPV goggles have the same aspect ratio as your camera.
Many FPV goggles (and cameras) can switch between aspect ratios. This allows better flexibility and compatibility .
Since you can use your FPV goggles on different drones, and each drone has a different camera, it is wise to choose a goggles with adjustable aspect ratio.
Field of View
The Field of View is a type of "distortion" employed in screens to make the image seem larger than it is. In layman's terms, FOV is the measurement of the size of the FPV screen in degree. Bigger FOV translates directly to a bigger screen and a more immersive experience.
So how does FOV measurement works? FOV is the angle between 1 edge of the screen, your eyes, and the diagonally opposite edge of the screen. A 70° FOV goggles will appears to have a larger screen than that of a 40°.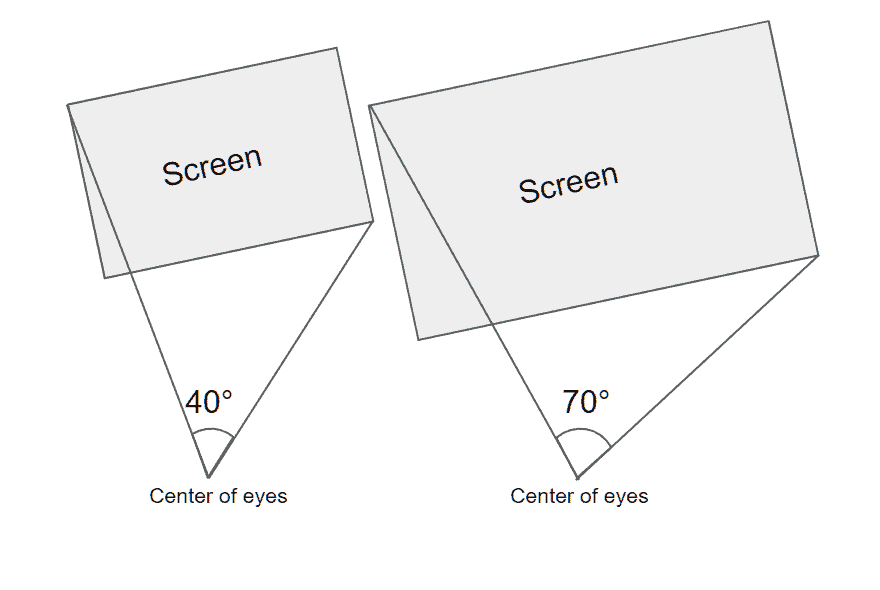 Box goggles have a FOV range of about 50-80°, while low profile goggles only provide you with a FOV of about 25-50°. Get those with around 40° FOV so that you won't have to keep on moving your eyes around the screen to read the OSD data.
A larger FOV can result in a more immersive but distracting experience, especially for drone racers. Having a higher FOV makes it harder for you to see the image at the edges of the screen, since the screen is so wide. In races, you really want to see everything in front of your eyes at a glance so that you can make split-second decisions.
Interpupillary Distance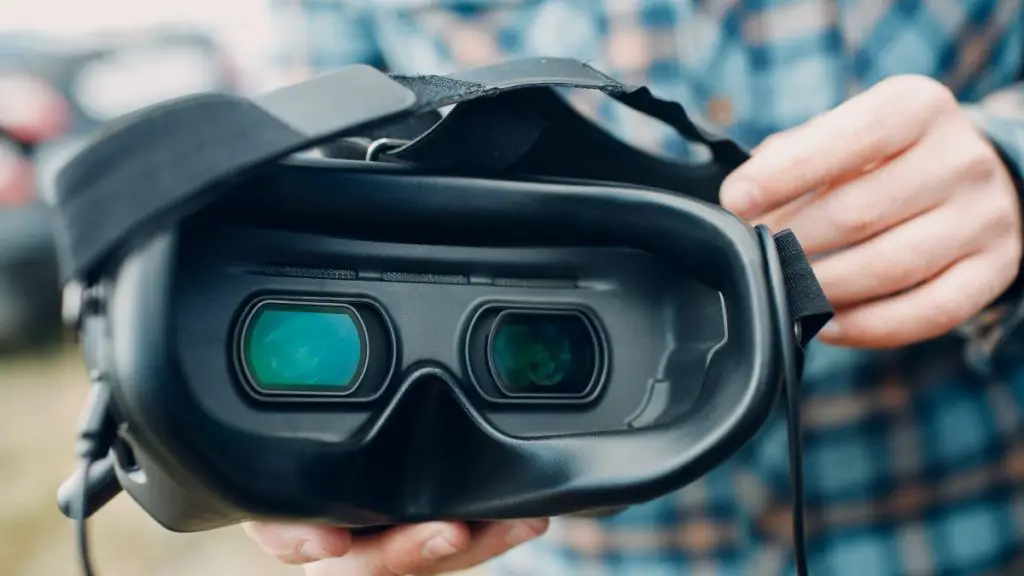 The interpupillary distance (IPD) is essentially the distance between the center of your eyes – a factor that is important specifically in compact goggles that utilize individual screens for each eye and requires a certain positioning to generate the correct image. 
If you plan to buy a compact goggle, make sure you get those with adjustable IPD! Some FPV goggles may come as it is in terms of their IPD, but most new models would have adjustable screen positions that help in addressing varying IPD in different users. Otherwise you will need to measure your IPD to get suitable goggles.
IPD doesn't matter if you are using box style goggles.
Receiver Module/VRX
To properly display the image that is being captured by your FPV camera, your FPV goggles must be equipped with the appropriate receiver module or VRX to obtain, process, and display the image collected.
Built-in
Certain FPV goggles come with built-in receiver. They are already sufficient to provide the necessary performance and feed that you will be needing in a race. It is a great option for those who are running on a budget. 
However, built-in receivers are usually not upgradable. You have to change the whole goggles if you want to upgrade it.
External Receiver Module
If your FPV goggles doesn't come with a receiver (whether built-in or not), you will have to fork out extra money to get an external receiver module. Such modules usually provide higher video quality and additional features that improve your FPV experience.
Most external receiver modules support diversity setups, which further improve the quality of your video feed.  
While external modules incur additional expenses, it is really worth the investment. 
Extra Receiver Module Bay
Some goggles come with with 1 or 2 receiver module bay. This allows you to slot in an extra receiver module to further improve your video quality.
Receiver Diversity System
A diversity receiver is a receiver that has 2 modules or more. Each module picks up the signal from your drone, and the system either merges the signals to improve its quality, or automatically switches between signal sources to give you a consistent, high quality video feed. This is sometimes called the "true diversity".
Older generations of diversity receivers simply switch to the strongest signal. While it is done automatically and reasonably fast, there will be a momentary blank screen during the switch.
Newer generations of diversity receivers such as TBS Fusion, ImmersionRC rapidFIRE, or Skyzone's SteadyView, combine the signals from 2 sources to create an even better quality video. Some of them also have sync pulse reconstruction technology to prevent the video from tearing when the signal is low.
In short, a diversity system is a must-have, as it greatly improves your FPV video quality.
Power Supply
There are 2 types of power supply for FPV goggles.
The first one is a built-in battery, much like our smartphone. With a built-in battery, you need to plug an USB cable into your goggles to charge the battery.
While you can charge it using a powerbank, it is quite inconvenient given the extra weight of the powerbank and slow charging speed. I am sure that you don't want a battery issue to stop you from winning a race.
The second type of battery is the removal battery pack. It could be a LiPo battery or lithium ion battery. In both cases, the batteries can be easily removed and charged with a separate charger. With spare batteries, you can power your goggles continuously. 
Most of the goggles in the market use removal battery packs. The only issue is most famous compact-style goggles don't have a battery compartment on the device itself. You will have to connect the battery with a long cable and put it in your pocket.
Embedded Fan
When it is hot and humid or cold, your goggles are prone to fog. Many new goggles have an embedded fan that helps you prevent or remove the fog quickly. 
You should consider having goggles embedded with a fan, especially if you are using compact goggles. Certain manufacturers also provide optional faceplates embedded with a fan for their goggles.
Digital Video Recorder
To keep the drone lightweight, not all drone cameras have a recording function. While you can fly faster because of that, there is no way to look back at your flight to identify opportunities for improvement.
An FPV goggles with a digital video recorder (DVR) is able to record your flight. That will allow you to see where or how you crashed, or why did you not exit the corner fast enough etc. It is not a must-have feature but you should consider having this.
Bear in mind though, video quality on the DVR is affected by the signal. Hence, DVR on the drone will definitely produce better quality video than that on your FPV goggles.
Focal Adjust
Many new goggles come with focal adjust which allows you to adjust between different diopters. That will eliminate the need for extra lenses.
You should consider choosing FPV goggles with focal adjustment if you have myopia or hyperopia. However, there's a limit to the range that you can adjust, depending on the model of the goggles you bought. If you have serious myopia, it might not help.
Diopter Support
Certain goggles allow you to slot in diopter lenses. You can either get fixed diopter lenses (Fat Shark | DJI), or prescriptive diopter lenses from RHO-Lens. You may not need this if focal adjustment can resolve your issue.
Other Features
There are lots more features that new FPV goggles boast. Some of them have features like HDMI input, audio, head tracking, 3D visualization, etc. 
HDMI input is something that you can consider having if you want to use an FPV goggles in drone simulation training. Other than that, you don't really need those features, especially the head tracking feature that changes the angle of your camera as you move your head.
Can I Fly FPV without an FPV Goggles?
You can fly an FPV quadcopter with an FPV monitor instead of goggles. FPV monitors are cheap and reliable alternatives to goggles. However, it gives you a least immersive experience. Moreover, you may face issue seeing the video due to reflection, if you are flying under the sun.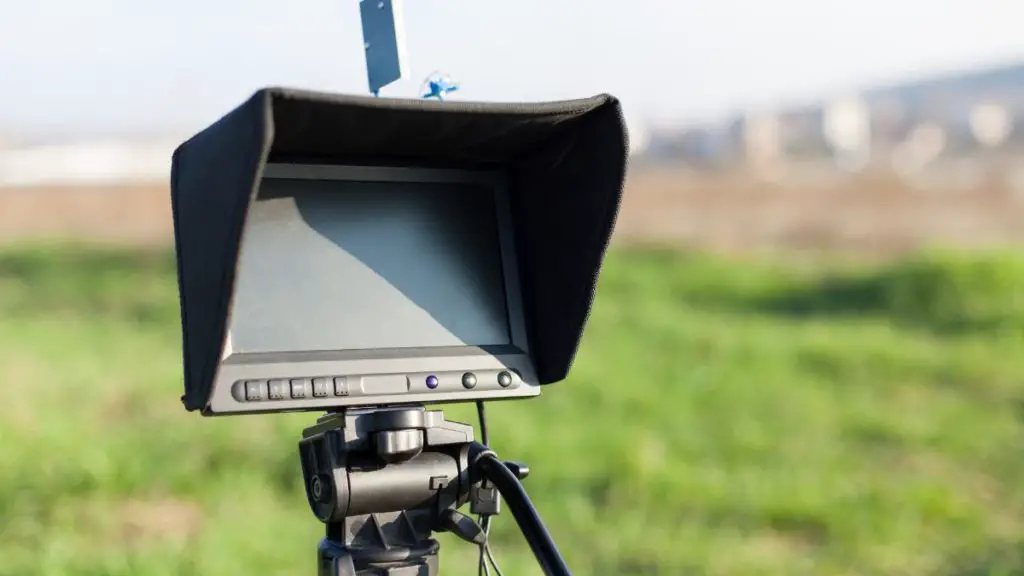 Final Thoughts
While you will definitely upgrade your drone over and over to stay ahead of your competitors, FPV goggles are something that will serve you for years. Make sure you choose the right goggle! If this is too overwhelming, just check out my recommendation page for choices of reliable FPV goggles.